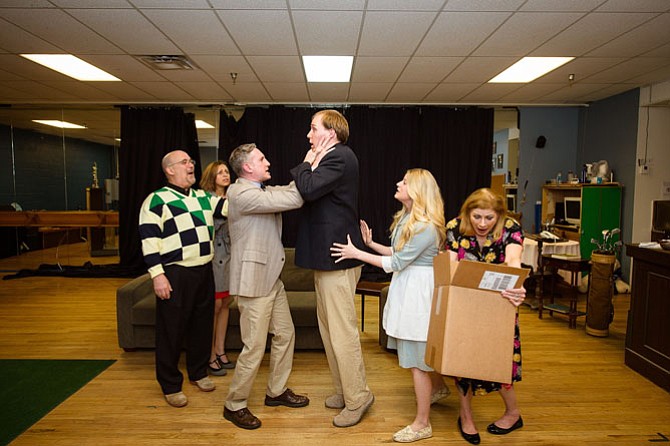 Where and When
Reston Community Players present "The Fox on the Fairway" at CenterStage, Reston Community Center, 2310 Colts Neck Road, Reston.
Performance Dates: April 24-May 9. Friday-Saturday evenings at 8 p.m. Sunday matinee, May 3 at 2 p.m.
Tickets: $17-$20. Call 703-476-4500 x3 or visit http://www.reston...">www.restonplayers....
"A great distraction from the everyday" is how director Adam Konowe describes the Reston Community Players' next production, "The Fox on the Fairway." And the madcap comedy was written by popular local area playwright, Ken Ludwig.
"Playwright Ludwig is a favorite of Northern Virginia audiences. Ludwig is well known for his uproarious 'Lend Me a Tenor,'" said Konowe (Reston). "With 'The Fox on the Fairway' there are plenty of surprises. What may seem familiar and normal explodes into great fun with plenty of chaotic connections."
"The Fox on the Fairway" is set in the supposed stuffy, straitlaced atmosphere of a private golf club readying for a tournament against its long-time opponent. While an important rivalry match; things are not going as hoped by Dickie Bingham, president of the golf club. Big bets have been made, but is a sure thing always sure thing? Add some unanticipated love interests and lost jewelry to complicate matters.
The six member ensemble includes new faces for Reston Community Players patrons. Veteran actor David Segal (Herndon) plays Dickie Bingham. Segal described his character as "obnoxious, loud, kind of a jerk, yet witty and not unlikable." He is trying to find a way to make the best of messy circumstances, many of which he created for himself.
Dina Soltan, a veteran of Northern Virginia community theater plays socialite Pamela Peabody, the ex-wife of Dickie Bingham. One of her favorite lines for her character comes as she gazes at one of his awful sweaters, remarking with some bite, "Did you have to kill it, or did it crawl onto your chest and just give up?"
Newcomer Bradley Dressler plays Justin Hicks, the assistant to Dickie Bingham. "I hope audiences laugh, I hope they cringe, I hope they have a wonderful evening. Above all, I hope we remind them that local theatre is wonderful," Bingham said.
The Reston Community Players production of "A Fox on the Fairway" is a Northern Virginia community theater premiere. For Joshua Redford (Reston), president of the Reston Community Players, "The Fox on the Fairway" is a "most fitting way to wrap-up a great 2014-2015 theater season; and thank our patrons with a wonderful comedy."
It is a fun, diverting show, that we hope "will bring a big smile and good cheer to the audience."
Who isn't ready for a romp right now? It's at Reston's CenterStage just for a short time.