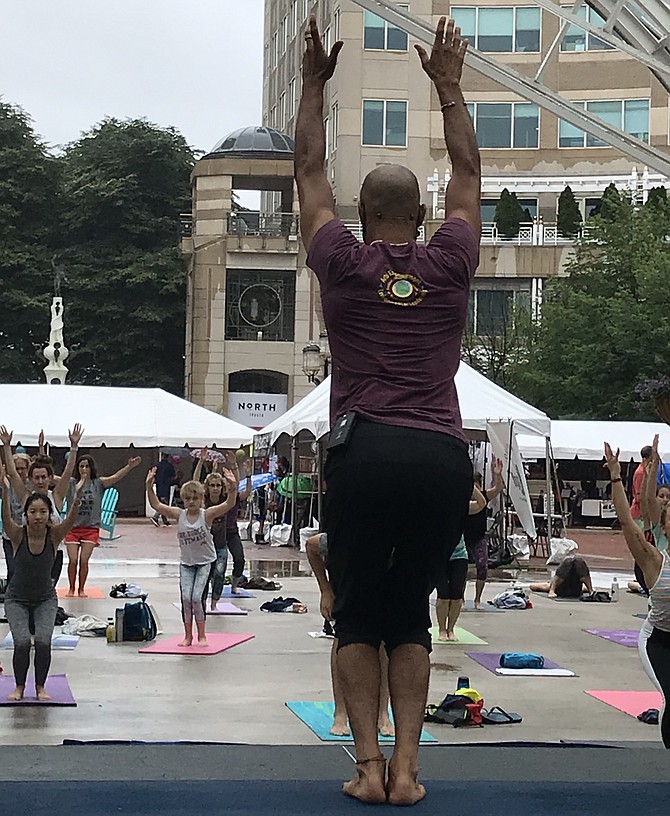 The Love Your Body Yoga Festival, sponsored by Reston Town Center and supported by a variety of regional businesses, held its 11th annual event Sunday, June 9. During the daylong celebration, yoga studios and wellness centers from across Northern Virginia offered classes, services and shared information. According to organizers, the event also launched the official start of the 5th annual Virginia Yoga Week, which runs June 10-17. According to organizers of the festival, during the week, given yoga studios and independent teachers will offer free, low-cost and Karma classes across the Commonwealth.
Maryam Ovissi, the owner of Beloved Yoga and Co-director and Founder of the festival, said, "This festival invites yoga studios, wellness-minded small businesses and nonprofits that use yoga to transform society, to celebrate." Ovissi said festival organizers invited the community to free event to experience, explore and learn about ways to love their bodies. According to Ovissi, proceeds from the event benefit Southgate Community Center, operated by Fairfax County through the Center's nonprofit, "Friends of Southgate Community Center, Inc."

"We are humbled and grateful that the Love your Body Yoga festival has named us as the recipient of any profit raised from the event," said Andy Sigle, Chair of the Southgate Community Center Advisory Council (SAC) and the President of "Friends of Southgate Community Center, Inc." According to Sigle, SACs mission is threefold. First, support programming at the Center; second, heighten awareness of the Center in the neighborhood and the greater Reston community, and third, encourage volunteerism at the Center and in the community.

"Examples of our efforts include championing bringing Yoga and Pickleball to the Center, spearheading obtaining the Southgate Community Center road signs from VDOT on Reston Parkway and Glade Drive, and rallying volunteers for our annual MLK Jr. Day of Service at the Center," Sigle said.
"We founded the 'Friends of' organization in 2018 as the fully accredited 501c3 nonprofit organization funding partner for SAC. FoSGCC raises money so that SAC can supplement the funding that Southgate Community Center receives from the County. We have purchased items like basketball uniforms for the Center's team, cheerleader outfits for the Center's squad, supplemental art supplies for the Center's summer camp, supplies for Center festivals like Community fest and Fear fest; we have paid for field trips for the Center's teenage Counselors-in-Training team to go to places like I-Fly and the movies, have happily and gratefully paid for annual staff lunches during the holiday season, etc.," said Sigle.
Beloved Yoga is located at 11109 Sunset Hills Road, Reston, 703-860-9642. Southgate Community Center is located at 12125 Pinecrest Road, Reston,703-860-0676.