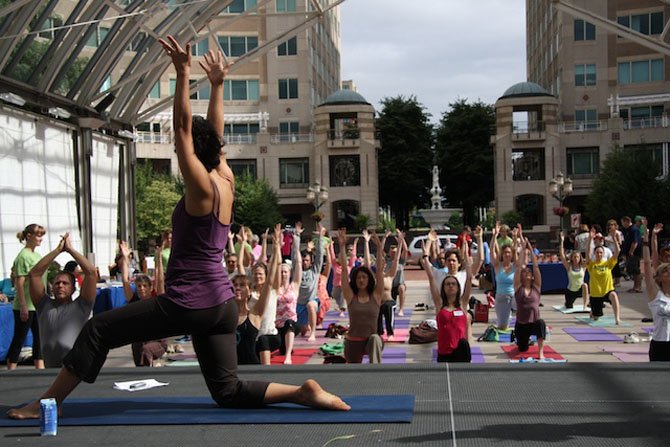 Love Your Body Yoga Festival, 2014 – Main Stage and Tents
Main Stage: Presentations begin with Beloved Yoga's opening class and live music at 10 a.m.; followed by a variety of classes for all levels of yoga, 20 to 25 minutes in length; ending with a Closing Circle Celebration from 2:40 until 3 p.m. Donations for class participation will benefit Cornerstones (formerly Reston Interfaith).
Bhakti Tent: Live music through the day, and indulgence in the art of devotion through mantra and sound.
Yoga Therapy and Ayurveda Tent: 10 to 15-minute talks about various topics and how to utilize the tools of yoga to find wellbeing and balance. Ayurvedic services will be available, and practitioners will answer questions.
Kids Tent: Scheduled activities for all ages include storytelling, hula hooping, dance, and laughter yoga, as well as yoga especially for kids.
See all activities scheduled from 10 a.m. through 3 p.m. at http://www.loveyo...">www.loveyourbodyy....
Beloved Yoga – http://www.belove...">www.belovedyoga.com; Reston studio: 12001 Sunrise Valley Drive, Reston; Great Falls studio: 1137 Walker Road, #4, Great Falls.
Yoga studios and wellness centers of Northern Virginia will offer classes, services, and share information at Love Your Body Yoga Festival on Sunday, June 8 from 10 a.m. until 3 p.m. at Reston Town Center, 11900 Market Street, Reston. With free admission, LYBYF offers free activities and entertainment for the whole family including live music, healing demonstrations, food samples, and soothing therapies such as Reiki, chiropractic, massage, and yoga. Donations for participation in specific classes will benefit Cornerstones. The Kids Tent will offer storytelling, laughter yoga, and more, for all ages. New highlights are presented at this year's event, and all are invited to enjoy the variety of activities, free prize drawings, and many booths on Market Street through the day at the 6th annual Love Your Body Yoga Festival.
Come and celebrate commUNITY with Northern Virginia's best yoga instructors and alternative health care providers offering fun and educational methods at Love Your Body Yoga Festival, which also launches the official start of Virginia Yoga Week 2014. Love Your Body Yoga Festival highlights are below, and the full event schedule of classes and activities is available online. For more information, call Beloved Yoga, 703-860-9642, email marketing@belovedyoga.com, and visit www.loveyourbodyyogafestival.com.
"This is truly an event for everyone – young and old, yogis, and those who have never tried yoga before," says Maryam Ovissi, co-owner of Beloved Yoga. "At Love Your Body Yoga Festival, everyone can learn about the many ways to take care of their bodies from the inside out – physically, mentally, and emotionally – to feel stronger and healthier." Love Your
Body Yoga Festival is organized by Beloved Yoga, which has studios in Reston and Great Falls, Virginia, and is presented with support from other local businesses and community volunteers. For sponsorship details, contact marketing@belovedyoga.com.