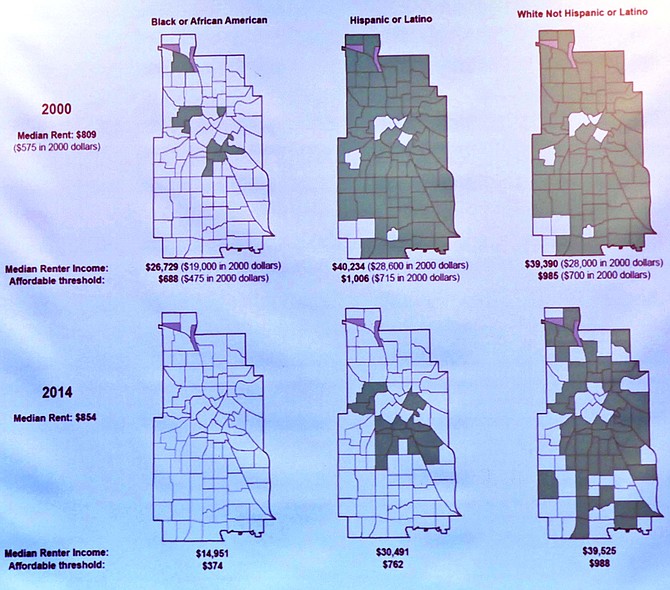 Andrea Brennan, Housing, Policy and Development director for the City of Minneapolis, told the Leckey Forum on June 5 the story of the Minneapolis 2040 plan: How they arrived, the barriers, the data behind the plan. "You don't arrive without a lot of leadership from elected officials." She said, "A lot of our challenges are similar to yours."
Minneapolis is a city of 420,000, with the Twin Cities having the highest racial disparity in the country. In 2018 Minneapolis adopted a new housing plan and between 2018-2019 they doubled the budget for the housing division with a 47 percent increase in rental housing production and 10 percent dedicated to ending homelessness. She cited headlines such as "Miracle of Minneapolis," in the "Atlantic Monthly" but she emphasized, "That's not what we were hearing at home."
Brennan said the plan was launched in 2016 after two years of input and planning and was approved in December 2018. They began by approving 14 goals such as reduction of disparities, living wage jobs, and clean environment which were informed by six values such as growth, equity, competitiveness.
They learned about mapping prejudice and set out to find the thousands of racial covenants filed against properties in Minneapolis and the redlining maps that kept people of color from getting mortgages.
Her 10-year comparative maps told the story of people of color isolated in pockets across the city with diminishing housing options. The extensive urban renewal and neighborhoods hit by the interstate had contributed to geographic segregation.
She said the city talked about this over and over in community engagement. The goal was to expand housing and add diverse housing options, especially for the missing middle. They wanted to offer more types and more affordable housing in all parts of the city. How to build more affordable housing in high cost areas? That led to the single family zoning currently in place. "We can't eliminate single family zoning, can we? Who would do that?"
Brennan explained downtown Minneapolis is filling fast. She explained they now require new buildings to be at least 10 stories high and multi-story on frequent transit corridors. In addition, they proposed allowing four units to be built on lots for the traditional single family home. "This received the most opposition. After some research we changed it to three. This was the most challenging for community engagement." There was also the issue of parking.
Part of the input came from a gentrification study where they looked at the quantitative signs in the city. What are the early signs of neighborhood change? Where is the greatest vulnerability to involuntary displacement? But they also looked at the qualitative. "People know when change is taking place."
She said another piece was they had to throw out the old model; the market is moving so quickly and is so dynamic and complex. They had to come up with a different approach to developing intervention. She said a lot of what is going on is pilot projects, "not studying it to death." Brennan said even though 2040 is a bold plan, it will be incremental such as allowing for gentle density.
What made it work? "Engagement, goals, advocacy, leadership. All were important and it wouldn't have worked without each of them but I think the most critical piece was the community engagement." She added it was so critical to ask residents what they want their city to look like in 20 years. They heard over and over that housing stability was fundamental to education, jobs and well-being.
The Leckey Forum held at the Central Library focused on "Planning for Equity and Affordability." It was sponsored by the Alliance for Housing Solutions (AHS) whose "mission is to increase the supply of affordable housing in Arlington County and Northern Virginia through public education, policy development, advocacy and innovation."
The program also included a panel discussion by Solomon Greene, Urban Institute; Chuck Bean, Metropolitan Washington Council of Governments; and Kathleen McSweeney, Arlington County Planning Commission. It was moderated by Michelle McDonough Winters, AHS executive director.