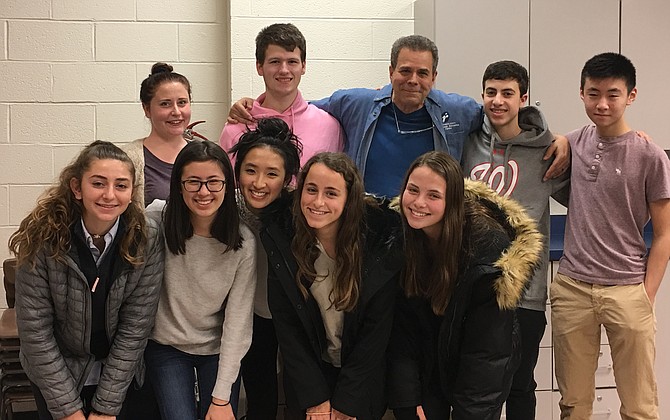 Last September, the Friends Advisory Board of the Potomac Community Center added an adjunct student group to support the present programs and brainstorm new activities for the Community Center on Falls Road. In their first several months this group of eight talented and enthusiastic high school students have generously shared their time and energy with our Center. It is hoped that this experience will promote understanding of policy and procedure in government, as well as gaining a greater awareness of group dynamics and interaction at the workplace. As these students take on responsibility and dedicate themselves to service, they will become leaders on the college campus and in the community.
It is clear that their support has added to the success of the Center and the dynamics of our weekly Club Friday events. Under the direction of Student Advisory Board members Luke Sumberg and Adam Horowitz, and with the help of other student members, they operate the Club Friday snack bar. They served over 4,000 Club Friday members during the 20 weeks of this year's program.
Beth Coffman, Assistant Director for Potomac Community Center, is leading Student Advisory Board members Julia Greenberg and Abbey Zheng in the development of a Facebook presence. Residents can now easily keep track of Potomac Community Center's calendar of events and even add their own input.
The remarkable annual Lunar New Year Celebration that attracted a capacity crowd has become a Community Center event that brings families together to enjoy an enriched cultural tradition. Peter Selikowitz, Center Director, publicly recognized and thanked the student "Friends" for playing a critical volunteer role in the success of the event.

Penny Heltzer, a long-time Advisory Board member, selected students based on previous volunteer and work experience. She focused on qualities that demonstrated their perceptive and compassionate interaction with children and adults in challenging situations. We are fortunate that each member of our student group is caring, creative and determined to help make our programs successful. The Friends Advisory Board is very proud of the Student Advisory initiative and plans to open positions as our current students graduate. If you are a high school student who wishes to be considered for selection to continue this tradition or have questions about the Student Advisory Board or the Friends Advisory Board to the Potomac Community Center, please contact either Penny Heltzer at acentmo@gmail.com or Friends Advisory Board President Pam Yerg at jeyclan@verizon.net.