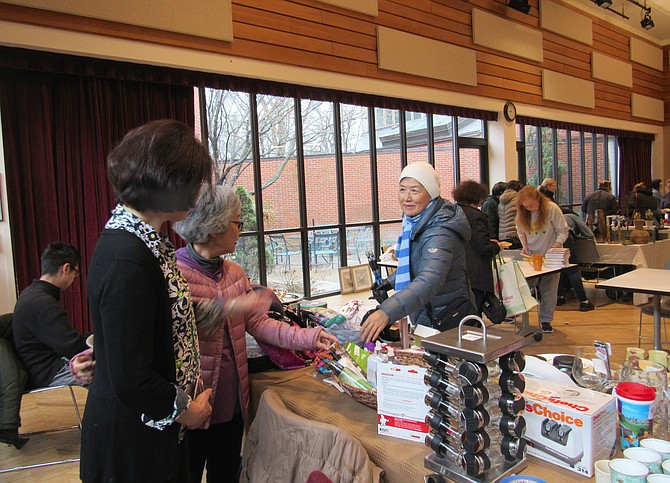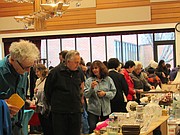 One person's trash became another person's treasure at the Spring Flea Market at Reston Community Center Hunters Woods, held Saturday, March 2. "This is our fourth annual event," said LaTanja Jones, Collaboration & Outreach Director, RCC. "We have 30 table vendors from Reston and surrounding communities. The event, free and open to the public, is geared to help people with their spring cleaning and put a little money in their pockets," Jones said.
Jack Horton stood at the table he shared with his wife. An assortment of cut glassware, jewelry and clothing covered the area. "This is 40 years. The idea is to buy high and sell low," he said jokingly. "We're dejunking, making space."
The flea market offered the perfect opportunity to clean out not only one's home but storage units as well. Timothy Savage of Reston and his son Aidan, 13 staffed a table covered with toys in excellent condition. "We are Foreign Service and move a lot. We had this in storage and had outgrown it," said Timothy Savage. "I haven't used any of these toys for two years," said Aidan.
Eddie Mae Walker of Reston echoed Savage's remarks. She too had a storage unit in need of emptying. As Walker wrapped a candleholder for Mari Oikawa of Reston, she explained, "I used to sell PartyLite candles and kept it all in a storage unit. I started cleaning the unit, and thought why not sell it?"
Money in a pocket, no matter whose pocket even that of clubs and organizations can motivate people to clean out unused items from their homes, sell them and donate the funds to a club or organization. Selling gently used items at low prices also supports neighbors as well as the environment rather than filling up the nearest landfill. Yumi Shintani of Herndon and Sumi Gallas of Reston shared two tables with a group of friends. "We are all members of the same club. Money from the sale will go back to the club," said Gallas.
Dave Folger of Reston gave his daughter Carolyn, 4, a shoulder ride through the flea market. He and wife, Tracy Reynolds meandered up and down the aisles. "We 're finding goodies for our kiddo. This is our first time at this flea market, but we'll come to the children's one in the fall," said Reynolds as they bagged an item for Carolyn. That market is the Reston Community Center: Children's Fall Flea Market on Oct.19 where junior merchants sell gently-used toys, books, games, videos, and a variety of child-friendly items according to the event description.
When the doors closed at noon, Jones reported 253 patrons visited the Spring Flea Market. RCC's next event for all ages is its new Reston Baby Expo Saturday, May 18. Its promotional card bills it as "the perfect place to learn about products, enrichment and childcare resources, and recreation pursuits... This expo will also include workshops, educational sessions, cooking demonstrations and more." For more information, contact LaTanja Jones, Collaboration & Outreach Director, RCC Fairfax County at 703-390-6158.