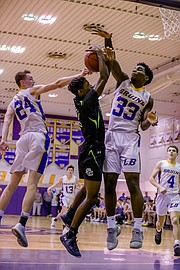 The Lake Braddock Bruins (23-3) defeated the South County Stallions (18-7) 68-56 on Tuesday night, Feb. 26, to win the Virginia 6C Regional Championship. Sam Grable scored 16 points and Nick Margraf added 13 for the Bruins.
The Bruins used their explosive offense to reel off 23 first quarter points, while holding the Stallions to just 8 points. The Stallions cut into the lead in the second quarter outscoring Lake Braddock 17-12, but would not get any closer. Lake Braddock converted on 7 three point field goals.
South County was led by William Wilson's 15 points and Cody Kellan's 12.