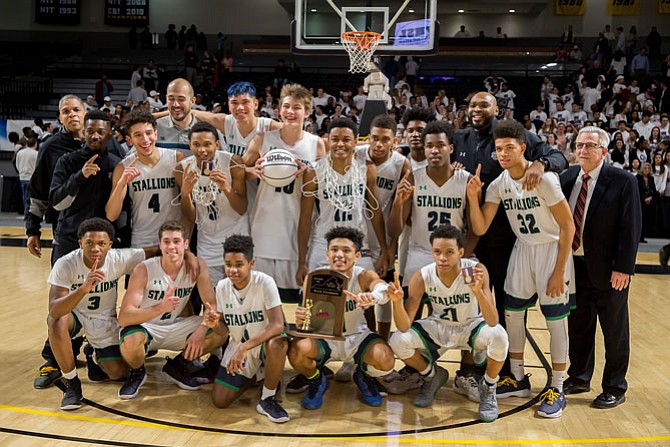 The South County Stallions advanced to the Virginia State 6A Final to face Western Branch HS from Midlothian, Va. at the Siegel Center on the campus of Virginia Commonwealth University on March 8. South County advanced by defeating Madison 41-40 in the first round, followed by a win over Battlefield 63-54. Western Branch advanced to the state final after defeating James - River Midlothian 63-56, and Frank W. Cox HS 74-65.
In the first quarter of the finals, South County jumped out to an early 10-8 advantage after the first eight minutes.
In the second quarter South County doubled their first quarter output putting up 20 points, while Western Branch nearly doubled theirs, scoring 15, giving the Stallions a 30-23 halftime lead.
In the third quarter, both teams combined for 18 points. South County held Western Branch to just 5 points, while adding 13 to their total.
The fourth quarter started with South County's lead being 43-25. Both teams moved the ball up and down the court effectively with South County scoring 20 and Western Branch adding 19, for the final score of 63-47. Both coaches substituted their starters in the fourth quarter. Seth Dunn and Quentin Millora-brown both received loud ovations from the Stallions fans as they exited the court for the final time as Stallions. Dunn will play football for James Madison University in Harrisonburg, Va. next fall. Millora-brown will take to the court for Rice University in Houston, Texas.
With the win South County becomes 6A State Champion for the first time, and ends the year with a 27-3 record. In addition to the State Championship the Stallions won the Regional Title, and the Patriot District. Western Branch ends their season as state runner up with a 25-3 record.
South County was led by Seth Dunn with 19 points, 5 rebounds, 2 assists and 2 steals in 26 minutes. Xa'Vian Myles added 16 points, 2 rebounds, and a steal in 17 minutes. Millora-brown added 13 points, 17 rebounds, 8 assists, and 4 blocks in 30 minutes.