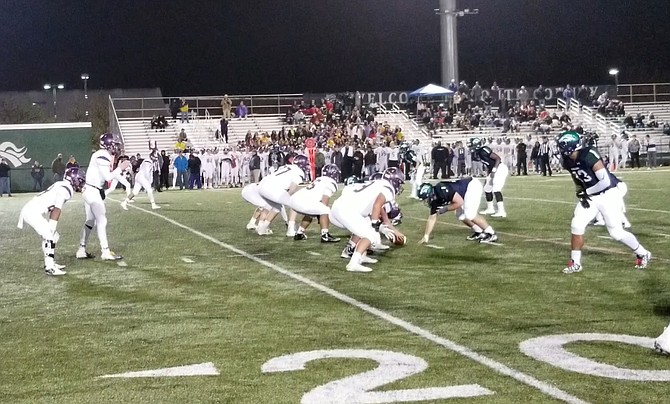 "We probably had some bigger – maybe even more talented kids (last year) – but I thought our team culture last year wasn't what this is… This is fabulous." —South County head coach Gerry Pannoni
South County defensive end Hassan Mohammed engaged Lake Braddock's left tackle, tossed him aside, and then headed after quarterback Billy Edwards. Mohammed got to Edwards before he could unload the ball, wrapped up the sophomore signal caller and then chucked him down on the turf.
Two plays later, with time running out and Lake Braddock facing fourth down at its own 23-yard line, South County defensive end Haris Khan pressured Edwards, forcing the quarterback to roll to his right. With defensive tackle Jack Mueck and linebacker Nico Asmar closing in, Edwards lobbed a desperation pass down the middle of the field that was intercepted by Stallion defensive back Torrance Hill as the clock struck zero.
Edwards has a bright future for the Bruins, having earned first-team All-Patriot District honors at the age of 15. On this night, however, the Stallions pressured, punished and pushed Edwards and the Lake Braddock football team out of the playoffs.
ONE WEEK AFTER beating the Bruins to win a share of the district championship, the Stallions sacked Edwards 11 times in the rematch and defeated Lake Braddock 15-9 in the Region 6C quarterfinals on Nov. 9 at South County High School.
South County (7-4), the No. 4 seed in Region 6C, will travel to face top-seed Woodson in the semifinals at 7 p.m. on Friday, Nov. 16.
Trailing by six points, Lake Braddock (7-4), the No. 5 seed, had three possessions in the final 6 minutes, 12 seconds, but each time the South County defense came up with a stop.
The Bruins had the ball at the Stallion 18-yard line with less than 5 minutes remaining and twice missed scoring the potential go-ahead touchdown by a matter of inches.
On 2nd-and-10, Edwards connected with Quentin James in the end zone, but an official ruled James came down out of bounds and the pass was incomplete. On third down, Edwards threw a perfect strike to a receiver who likely would have scored, but the pass was dropped.
Mohammed sacked Edwards for an eight-yard loss on fourth down, giving the ball back to South County.
Mohammed led the Stallions with 3.5 sacks. Mueck finished with three sacks, Asmar had two, defensive tackle Zion Dayne tallied 1.5 and Khan added one.
"The pressure was crazy," said Asmar, who recorded his sacks on back-to-back plays in the third quarter. "We weren't blitzing that much. It was just full pressure from our D-line. We have one of the best D-lines in the state, I think."
South County limited Lake Braddock to 246 yards of offense, including 227 passing yards from Edwards, who completed 15 of 40 attempts, with one touchdown and one interception.
The Bruins finished 4-for-17 on third down.
South County's Hill totaled 10 tackles to go with his interception.
"We're very fast on defense," South County head coach Gerry Pannoni said. "We might not be super heavy or thick or anything like that, but we're strong and we're fast, so I think it helps us."
Lake Braddock took a 6-0 lead when Edwards connected with running back Ben Dizon for an 11-yard touchdown with 8:47 remaining in the second quarter.
South County responded on its ensuing possession, when quarterback Matt Dzierski found Carl Pearsall in the back of the end zone for a 10-yard touchdown. The point after gave the Stallions a 7-6 advantage with 6:48 left in the opening half.
"Carl…throughout the whole year, he's been struggling," Dzierski said. "I told him, just wait for his chance and tonight he got a few balls."
Pearsall finished with five receptions for 49 yards.
On the opening possession of the second half, the Stallions marched 89 yards in 10 plays and extended their lead to 15-6 after Dzierski hit a wide-open Tyler Johnson for a 43-yard touchdown.
"[A Bruin defender] was in the middle of the field and right before the play, he shifted to the right," Dzierski said, "and we had a post going right down the middle and he was wide open."
A successful two-point conversion attempt gave South County a two-possession lead.
Dzierski completed 11 of 16 passes for 156 yards, with two touchdowns and one interception.
Lake Braddock kicker Austin Rawlins made a 38-yard field goal with 8:06 remaining in the fourth quarter, cutting South County's lead to 15-9, but the Bruins would get no closer.
SOUTH COUNTY finished the regular season with a 6-4 record, including 4-1 in the Patriot District. The Stallions closed the regular season with a four-game winning streak, including a 16-14 victory over Lake Braddock in the finale on Nov. 3 that earned the Stallions a three-way split with the Bruins and Woodson for the district championship.
South County's four losses came against three-time-defending state champion and region 6D top seed Westfield (10-0 regular season record), 6D No. 2 seed Centreville (8-2), 6D No. 3 seed Madison (8-2) and 6C No. 1 seed Woodson (9-1).
After South County defeated Hayfield 36-6 on Sept. 21 to even its record at 2-2, Pannoni said he viewed the Stallions as a team capable of making a deep playoff run.
"I still do," Pannoni said after Friday's win over Lake Braddock.
Why is that?
Pannoni pointed to team chemistry.
"We probably had some bigger – maybe even more talented kids (last year) – but I thought our team culture last year wasn't what this is," Pannoni said. "This is fabulous."
Next up for South County is a rematch with district foe Woodson. The Cavaliers defeated the Stallions 18-7 during their regular season meeting on Oct. 5 at Woodson High School.
"I look forward to it," Pannoni said. "We were not at our best when we played them. We're playing pretty well right now, so we look forward to it."