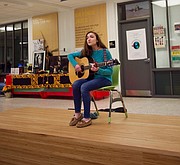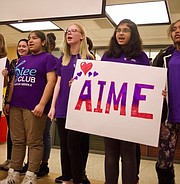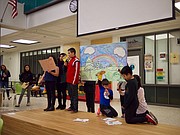 As Reid Goldstein, Arlington School Board member said, "I wouldn't miss this. I come every year. It's great." School Superintendent Patrick Murphy agreed. They were at Arlington Career Center to watch the annual showcase of language learning in APS, from second graders to seniors.
Elisabeth Harrington, APS' World Language supervisor told the crowd: "Our language programs focus on presentation skills. Students in the more advanced classes have to learn to speak for two minutes without stopping. Try that sometime in your own language. It's not easy." The presentation skills are useful to APS students in later pursuits: it's a job skill to stand up in front of a group and perform.
Among the students performing in a foreign language on March 6 were Cordelia Medrick, who sang a Schubert song in German, Discovery Elementary's 3rd and 5th grades reading letters from their pen pal experience with students in Ecuador, Samantha Wiener who "sang" a song from Hamilton in sign language, and Leah Pollack, an AP Spanish literature student who sang a song she wrote herself called "Descalza Dorada." Michelle Letts, American Sign Language (ASL) teacher at Washington-Lee High School also mentioned the job skills aspect of language learning: ASL has grown from 2 to 6 teachers, and has an ASL honor society with 17 students in it. "This is a great thing to be able to put on a job application," she said.
March 3-9 was National Foreign Language Week. For more information on learning foreign languages, see: https://www.apsva.us/world-languages/.