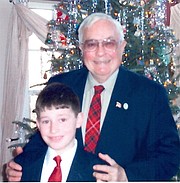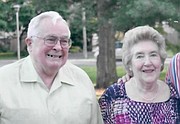 Connie West was known for being a meticulous documentarian. For decades he served as recording secretary for several civic and nonprofit organizations. But there was one ritual he performed quietly for years, never talking about it but dutifully carrying it out each day.
"Connie lived in the Hallmark condos," said West's step-son Mark D'Alessandro. "There is a small park in front of the condo and every morning he walked across the street and raised the American flag and every evening he would take it down. You wouldn't know it unless you saw him – he wouldn't talk about it."

It was a simple but important ritual for West, a Korean War veteran who died March 8 at the age of 87.
"I can't imagine the West End, or the Holmes Run Park, especially the American flag that Connie lovingly tended in the James Marx All Veterans Park, without Connie's strong quiet resolve," said Holmes Run Park Committee chair Elizabeth Wright in an online tribute. "I can't think of anyone who embodied service and love of community more than Connie."

Born July 23, 1931, in Greenfield, Mass., Converse "Connie" West was one of two sons born to Robert and Constance Mackinnon West. He was raised in northern New Jersey and graduated from Montclair State College High School in 1949.
West went on to earn a bachelor's degree from Drew University with a double major in economics and political science. In 1953, he entered law school at New York University but was drafted into the Army after completing his first year.
West's military service included a tour of duty in Korea and work with the U.S. Army Security Agency, a predecessor of the Army Intelligence and Security Command.
After leaving the military, West pursued a 30-year career in insurance. He relocated from New Jersey to the Washington area in 1965, living in Bethesda, Chantilly, Falls Church and Arlington before settling in Alexandria in 1976.
West quickly became active in numerous city organizations. One of his longest associations was as a volunteer with the Alexandria Police Department. He began in 1989 by answering telephones and taking routine reports. He completed courses offered by the Police Academy and logged more than 5,200 volunteer hours of service, the equivalent of nearly three full-time years.
West's service to the APD was so successful that the city created part-time paid positions to perform these duties. Well into his 80s, West was selected for one of the three new jobs.
"Connie was a real sweetheart," said Ginny Obranovich of the Alexandria Police Foundation. "Everyone loved him. He was very supportive of the police department and was a volunteer for almost 24 years. It's really sad to lose him."
West served on the Alexandria Traffic and Parking Board for 22 years. He also served on the Alexandria Transportation Safety Commission from 1986 through 2010 including a term as chair. From 1993 to 1996, he chaired the Alexandria Crime Prevention Council and from 1992 until 2011 West was a member of the Regional Council of the Alexandria United Way.
In 2009, West joined the Alexandria Emergency Medical Services Council and the following year rejoined the board of directors of Hallmark Condominium after having been a member from 1980 until 1986. The latter included a year as president. He served as an election official at every Alexandria election.
For two years, West scaled back his community involvement to care for his wife Nedja prior to her death in 2006.
"Connie really took care of my mother," D'Alessandro said. "She was very ill and he dropped everything to be her caretaker."
West, who was selected as a Living Legend of Alexandria in 2014, also volunteered his time with Agenda:Alexandria, the Holmes Run Park Committee and the Alexandria Federation of Civic Associations.
"Connie West was committed to improving the Holmes Run Parkway during the years he served as the chair of the Holmes Run Committee," said Janet Barnett, who worked for the Department of Recreation, Parks and Cultural Activities at the time. "And it was clear that he was deeply proud of his companion Julia. I remember seeing them at Agenda:Alexandria and how sweetly he cared for her."
West is survived by his brother, Robert West, his longtime companion, Julia Williams, step-children Mark, Theresa and Gerard D'Alessandro, step-grandsons Thomas and Joseph D'Alessandro, and nephews Arthur and David West. He was twice widowed: his first wife, Ruthe Mustain, died in 1993, and Nedja D'Alesandro predeceased him in 2006. A brief first marriage to Barbara Lampman in the '60s ended in divorce.
A visitation and viewing will be held March 22 at Everly-Wheatley Funeral Home, 1500 W. Braddock Road, from 6-8 p.m. A memorial service will be held the following day, March 23, at the funeral home chapel at 1 p.m. Police Chief Michael Brown will speak at the service. Inurnment will take place at Arlington National Cemetery at a later date. In lieu of flowers, donations may be made to Virginia Special Olympics. See www.specialolympicsva.org
"Connie was a devoted friend, husband, companion, mentor and civic activist," Wright added. "There are many that owe Connie much in the realm of appreciation and gratitude. There is a hole in our hearts and in the West End. We couldn't have asked for a better neighbor or friend."