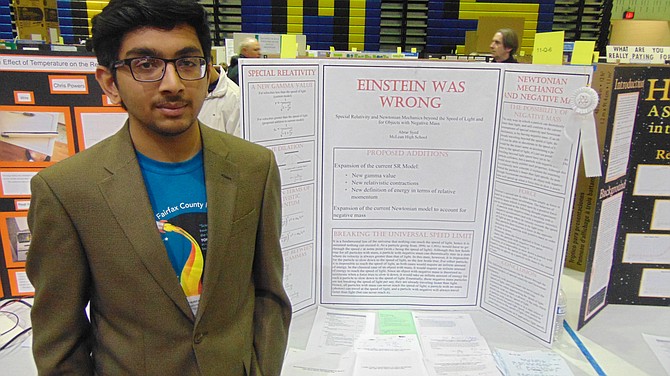 The gym at Robinson Secondary School resembled a mini version of the United Nations. At the 64th Annual Fairfax County Regional Science and Engineering Fair held Sunday, March 17, some 670 students from 27 high schools competed for nine Grand Prize slots and the chance to go to the International Science and Engineering Fair sponsored by Intel in Phoenix, Ariz. later this year.
The categories ranged from chemistry to robotics, intelligent systems to mathematics, earth and environmental sciences, biomedical and health sciences, to STEM disciplines and engineering.
After a public viewing from 1-3 p.m., they held an awards program with members of the Fairfax County School Board and Region Superintendents where prizes were awarded to the Grand Prize winners and Corporate and Professional Organization award winners.
The students' 428 projects were judged three times Saturday by 200 category judges. About 250 students won awards from 50 corporate and professional organizations that were sponsored by government agencies, nonprofits and think tanks. Prizes ranged from $1,000 cash awards to scholarships and internships, gift cards and even a Raspberry Pi Zero Starter Kit. One project on Cystic Fibrosis Wearable Technology from Madison High students Thaissa Peixoto and Alex Gurski won a patent preparation and filing from the law firm Hunton Andrews Kurth LLP in the District.
FOR THE GRAND PRIZES, nine projects were allotted slots in the International Science and Engineering Fair sponsored by Intel Corporation in Phoenix, Ariz. Because of the size and reputation of Fairfax County, those projects can go straight to the International Fair without having to go through state competition. This includes an all-expense paid trip for students to compete for up to $4 million in prize money.
According to Dr. Jenay Sharp Leach, fair director and Pre-K-12 Science Coordinator: "In Fairfax County Public Schools, we pride ourselves on providing students with a rich, inquiry-based science experience in the classroom so all of our students have the opportunity to experience science as real scientists where they are asking questions, they are collecting data and analyzing that data and forming their own conclusions. And Science Fair is a really beautiful manifestation of this inquiry process in that the students truly have access to open inquiry and can explore what they want to explore."
She added: "So, the students who come to the fair represent the best of the best from all of our high schools as well as our private schools in Fairfax County. And they are the elite level of scientific investigation."
DR. SHARP LEACH said one of their traditions is to choose a quote from a famous scientist or engineer to inspire the work of the fair. This year's quote comes from Stephen Hawking who said, "Scientists have become the bearers of the torch of discovery in our quest for knowledge."
She continued: "There are cancer cures in this room right now, there are climate change advocates who are going to stop climate change in this room right now and it's very inspirational."
Added Tim Harazin, Elementary Science Specialist with Fairfax County Public Schools who helped coordinate the fair: "At our Regional Science Fair we are proud to have so many professional organizations and companies provide judges and awards. The benefit is, first, there is an award for the students, many times monetary, but other options, but I think the bigger issues is these organization judges are role models for the students. They show the students that a science fair is not just a one-shot deal, but it could lead to a career in science, engineering or related fields, and I think it's really great that the students get to see the people who are living those careers and get advice from those people. So, that's what I see is the really big advantage. That's why I'm not as concerned that every organization gives us money because I know they're giving us time and they're giving us role models."
2019 Grand Prize Winners
Computational Biology & Bioinformatics – David Toomer, Hayfield Secondary School;
Embedded Systems – Rachel Naidich, Thomas Jefferson High School;
Embedded Systems – Rishabh Misra and Divjot Bedi, Thomas Jefferson High School;
Energy: Chemical – Kaien Yang, Thomas Jefferson High School;
Microbiology – Sarah Syed, Miamar Burgos-Rosario and Saijai Supanklang, Hayfield Secondary;
Physics and Astronomy – Luke Mrini, Lake Braddock Secondary;
Physics and Astronomy – Justin Wang, Chantilly High School;
Robotics and Intelligent Machines – Jerry Wei, Oakton High School;
Biomedical Engineering – Justin Hu, Madison High School.
UPDATED March 21, 2019 to reflect the correct name of the law firm Hunton Andrews Kurth LLP.