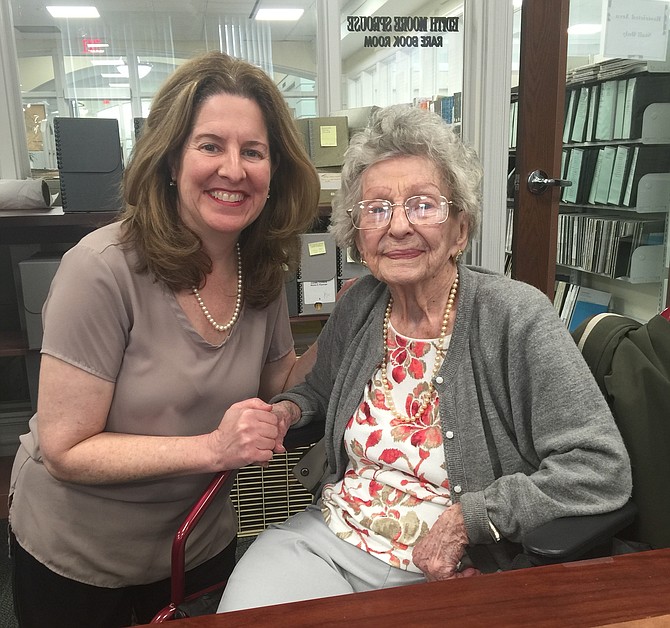 Our family would like extend our sincere gratitude and appreciation to several wonderful organizations in Alexandria who came together to celebrate my grandmother's life of 104 years and 10 months.
My grandmother — Marion Roland Conrad — died on Feb. 12, 2019. She was born on March 30, 1914 at 224 N. Royal St. in Old Town Alexandria. She lived 92 of her 104 years in Alexandria, having moved to Virginia Beach at the age of 92. She remained faithful to her beloved city her entire life and to the wonderful organizations she belonged too.
She had so many stories that she loved to share with family, friends and even strangers about growing up in Old Town. She would often talk about her girlhood home at 505 S. Lee St., including as a child when her mother bricked up the underground passage in the cellar to the waterfront for smuggling, when President Wilson would visit their home for Sunday dinners, and her experiences as the first Girl Scouts in the city. She talked of experiencing life during the depression, or the many times her mother cooked for soldiers or families during World War I and World War II. She was very proud, as the Grand Regent of Court Kavanaugh #54, of being given the honor to be the first woman to lay a wreath on John F. Kennedy's gravesite in 1963.
It was very apparent during the planning of her funeral how very important she was to this city. The Alexandria Fire Department acted as honor guards during funeral services, and with lights and sirens blazing, they led the funeral procession to the cemetery, later falling behind to be the last to the burial site in Falls Church. The cemetery said they had never seen a fire truck enter their cemetery as part of a procession. Thank you Alexandria City Fire Department for being such a huge part of my grandmother's life for all these years, from the 20 years as Assistant to the Fire Marshal and later as a member of the Retired Fire & Police Association.
We are very grateful to the Basilica of St. Mary's who worked with my family to have her funeral services at this beautiful church she loved and grew up in. The women of Catholic Daughters of the Americas, Court Kavanaugh #54 — you are a special group of woman and our family was so moved to have so many of you participate in her services. Following the gravesite services, our family was truly honored to be part of the Daugthers of the Confederacy graveside ritual presented by the Mary Custis Lee 17th VA Regiment Chapter 7.
In the end, the support of her dear friends stayed with her not only during the happy times, but during illnesses and at death and now during her new journey. This is part of what makes the City of Alexandria the best of the best.
Therese DeSanto
Virginia Beach
Formally of Alexandria