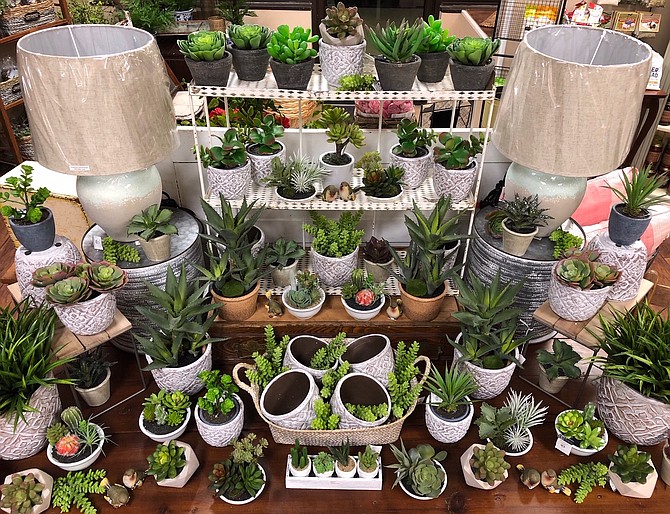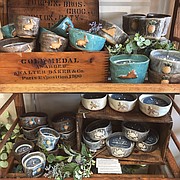 As Mother's Day draws near, those still searching for a meaningful tribute to Mom can find a gift that appears anything but last minute. From frames to flowers, local tastemakers offer thoughtful ideas for presents that will accessorize the home and make mom feel like a priority.
Give a gift of beauty and fragrance, suggests Anne Walker of Anne Walker Design. "A home décor product that I've recently discovered and absolutely love is the Aroma Om Ultrasonic Diffuser from Saje Natural Wellness," she said. "With its white ceramic shell and soft glow, it looks so beautiful in any room, but more importantly, it infuses your air with 100% natural essential oils."
Walker continued, "It makes your home smell like a spa [and] improves your mental and physical health. If you turn on the diffuser in the evening, you will have the best night's sleep of your life. What better present could there be for a busy mom?"
While fresh flowers can be beautiful, Todd Martz of Home on Cameron suggests creating an arrangement that can brighten a home year-round . "Create a bouquet that won't die [using] handmade felt flowers made by women in Nepal." Martz says the flowers range from $6 to $20.
Another option with staying power is a house plant with a twist, suggests Courtney Thomas of The Picket Fence. "Give Mom a no-maintenance gift with a faux succulent," she said. "Faux plants have come a long way and succulents are all the rage right now. There are many styles to choose from that are so realistic people often ask us how to take care of them."
Whether placed on a coffee table or nightstand, Thomas suggests a gift that is sure to be treasured.
"Find a favorite family picture or have a professional photo taken and give it to Mom in a beautiful frame," she said. "We especially love our new line of glass and fabric frames. The designs are unique and elegant and are perfect for framing those special pictures."
Whether classic or modern, Martz recommends cocktail napkins and guest towels. "They're small and thoughtful," he said.
Scented candles that also serve as home decor are always wonderful gifts for Mother's Day, says Walker. "The glow of the flame is warm and comforting, and the scent, depending on which one you choose, can evoke feelings of calm and serenity, summer beaches, a cool forest. … It makes me feel like I'm in a resort on the island of Mustique, even if I'm stuck in my office," she said.
"Pottery candles from Mississippi are a unique twist on the traditional candle," adds Thomas. "Each candle is hand poured into decorative pottery vessels, which can be reused once the candle is gone. Mom can enjoy a great smelling candle and then has a decorative vase that she can keep."
Rigaud-Classic candles are Martz's suggestion. "Jackie Kennedy used them in the White House," he said.