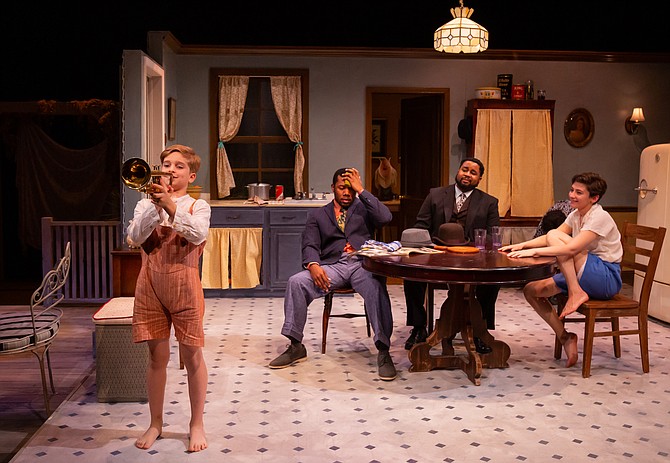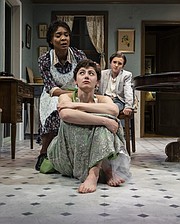 The drama begins with the bluesy notes of a solo trumpet. It grows into the touching 1st Stage production of Carson McCullers' legendary "The Member of Wedding." It is a play about white and black individuals in situations not often seen on area stages.
Sensitively directed by Cara Gabriel, the 1st Stage production of "The Member of the Wedding" is far more than about a lonely 12-year old girl named Frankie (portrayed by Zoe Walpole as a hyper force of nature one moment and an utterly lost human being the next). As she says, "I wish I was somebody else besides me. If I had to be me for the rest of my life, I think I would die."
Frankie longs to escape her isolated rural Deep South existence. She purposely bumps against society's ingrained norms, starting with her having her hair cut short. Frankie is also a girl whose mother died during childbirth and is being raised by a cold father and by the warm loving family housekeeper. On the cusp of her teenage years Frankie is seeking the "we of me," through an unusual entanglement with her soon-to be-wed brother and his bride-to-be.
Over time, Frankie's family housekeeper, Bernice Sadie Brown takes on the central dramatic place in the production. Through Bernice (a vivid Deidra LaWan Starnes brightly incandescent when the moment requires and world weary the next) layer upon layer of emotional resonance takes center stage. It is through Bernice's daily struggles with racism that the production becomes a force to emphatically examine embedded white privilege. (Please note that the "N" word is spoken.)
The journey with "The Member of the Wedding" includes the meticulous work of Rebecca Ballinger, Michael Crowley, Caroline Dubberly, Dylan J. Fleming, Jonathan Helwig, Jonathan Del Palme, and alternating in the role of Frankie's six year old cousin John Henry West are William Carroccio and S. Gabriel Mackenna.
The production's creative team has fabricated a set design so realistic one might think the oven worked and there were real crickets. The team includes Jonathan Dahm Robertson (set), Jason Arnold (lighting), Neil McFadden (sound) and Felysia Furnary (props). Costumes by Debra Kim Sivigny give both Frankie and Bernice a graphic visual depiction at any moment.
The 1st Stage production of "The Member of the Wedding" tunnels into audience hearts and souls on multiple levels until the solo trumpet is heard once again.
Where and When
1st Stage presents "The Member of the Wedding" at 1524 Spring Hill Road, Tysons. Performances through June 2, 2019. Thursday at 7:30 p.m., Fridays at 8 p.m., Saturdays at 2 p.m. and 8 p.m. and Sundays at 2 p.m. Tickets: $39 (adults), $36 (seniors 65+), $15 (students and military), Call 703.854.1856 or visit www.1ststagetysons.org