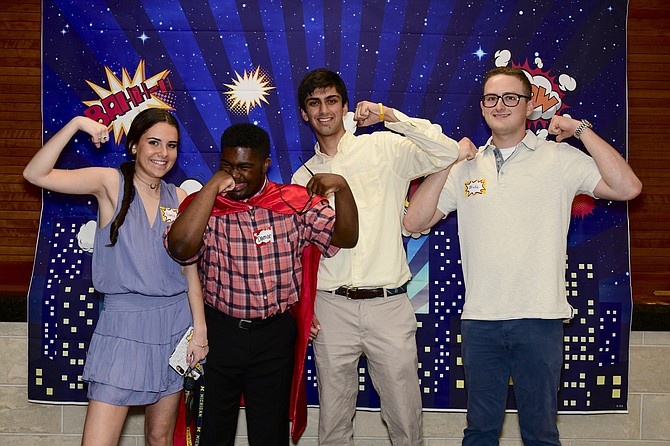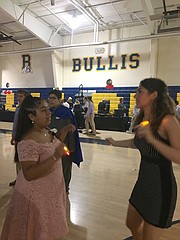 There were no wallflowers at The KEEN Prom Friday night.
It was a night of being together, dancing, eating and having fun for Bullis High School students and athletes from KEEN of Greater DC.
KEEN, which stands for Kids Enjoy Exercise Now, provides children and young adults with physical and developmental disabilities with "non-competitive one-to-one programs of exercise, fitness and fun," according to its mission statement.
Surely it was mission accomplished Friday when about 80 KEEN Athletes and 110 Bullis students met in the school's gym for the fourth annual KEEN prom hosted by the students.
Each athlete was greeted by a volunteer with a large sign with his or her name on it asking them to be their date.

The idea was for each athlete to have one on one time with a Bullis student, but so many students volunteered for the event that many KEEN athletes had more than one date.
"It's been so easy to reach out and get [volunteers]," senior Ethan Copeland, who chaired the prom with senior Sophia Fragoyannis and junior Charlotte Helmig, said. "Out of 400 high schoolers [at Bullis] 110 volunteers is a great turn out."
Many of the Bullis students work with KEEN athletes all year at a bi-weekly KEEN Club which meets at Tilden Middle School for physical activities. They also have special events and sometimes go on field trips.
"We serve every child, no matter what the disability," Colleen Kennedy, president of KEEN Board of directors, said. "They are like every other kid who likes to go out and see peers and see their coaches, who want to be with them."
Ravi, 22, was really looking forward to the prom, his mother Preeti Chojar said. He went last year too.
"He likes to wear his nice white shirt and black pants," she said. "He likes to dance."
But, she said, the best part is the people. He feels welcome.
Bullis senior Katelyn Foreman said she has been attending the KEEN Prom for three years.
"It makes them so happy; you can't help but smile," she said.
The Prom theme this year was "You've got the power" and the decorates reflected superheroes. Athletes were given superhero masks and capes and tables throughout the gym were decorated with "Boom'" "Bang," "Whack," and "Pow" displays.
There was a photo booth, flowers for the guests courtesy of EDGE Floral, music was by A-Squad Entertainment and dinner was provided by Mamma Lucia.
Linda and Rich Blumenreich brought their son Brian to the Prom. He has been attending KEEN events for 17 years.
"It's given him friendship," Linda said. "When he comes, whoever is working with him is his friend. It's the one-on one that makes it special."
KEEN is so special to their family that Rich joined the Board.
"I wanted to be sure other people could have these experiences too," he said.
For more information visit KEEN Greater DC at www.keengreaterdc.org.