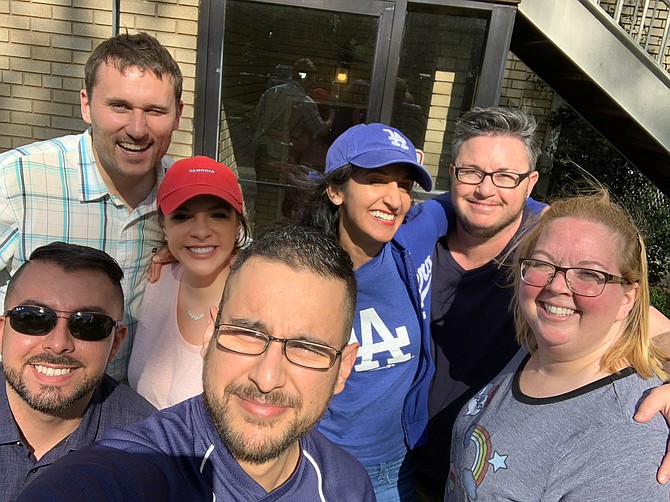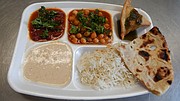 Thanksgiving came and went in a blur before Meera Rajyagor could make the traditional hearty holiday meal she wanted to cook for residents of Carpenter's Shelter, which serves about 650 homeless people in Alexandria every year. So instead of making the classic American feast that she originally imagined last fall, Rajyagor started to plan something a little different.
Fast forward to this spring, and on Saturday, April 20, Rajyador and a group of colleagues and friends – all federal government employees – prepared a traditional Indian meal for 60 Carpenter's Shelter residents.
"After walking through and meeting one of the families Carpenter's Shelter, I really wanted to do something nice for this group of people – something special to make them happy," said Rajyagor, an Indian American resident of Alexandria. "Then I thought, 'These people have never experienced Indian food, and it shouldn't be a luxury to have that cultural experience. Let me get some Indian food together and give them this experience.'"
It took Rajyagor months to plan for this act of service. Between friends and local organizations, she brought a diverse network of people together.
"It was awesome," Rajyagor said. "Del Ray United Methodist Church offered to let us use their kitchen, which was so gracious. Six other people helped me cook. At one o' clock, we all met at the church, we ate together and then said a prayer. It was an interfaith kind of thing. Here I am, Hindu, trying to put more good in the world. And the others were too – one was Jewish, one was Catholic, and the people who actually served the food we cooked were part of a Muslim organization. All of us were so happy to be there, to participate. We thought, 'Let's make it Christmas for these people.'"
First Rajyagor drew inspiration from her sister, and then she consulted with a longtime friend who owns an Indian food truck in Jacksonville, Fla., for recipes that would feed 60 people.
Once she settled on the perfect ones, she recruited the group of people who would help her. Together the group cooked garbanzo bean curry (chole), red kidney bean curry (rajma), raita yogurt sauce, and more. They brought these dishes that to Carpenter's Shelter for dinner that Saturday – the eve of Easter Sunday – along with samoas, whole wheat naan bread, and traditional Indian rice pudding.
It took not only a village to make everything happen, but also a few strokes of luck when some major curveballs flew in her direction.
"The weekend before we were supposed to prepare all the food, my friend and I went to the restaurant that we supposed to provide us with certain ingredients," Rajyagor said. "That was when we found out it wasn't going to work out. I was bummed. But, then something serendipitous happened. We happened to stop at another Indian place that just so happened to be on the way home: Saran Indian Vegetarian Cafe. It was delicious, home cooked food. That very day, I asked them, they said they would donate rice, and give us a discount on appetizers. It was incredible the way it worked out."
It worked out so well that Rajyagor ended up having the funds to do even more for the local shelter.
"Two of my friends from work so graciously donated enough money to buy some of the food so we were also able to buy items from the Carpenter's wish list," Rajyagor said. "I got men's shirt, socks, oatmeal, lemonade mix, pillows, and headphones that we dropped off along with the food."
Rajyagor's donation marked the first time that a full-blown Indian meal was served at Carpenter's Shelter.
"When we got to the shelter, some of the residents helped us bring the food inside," Rajyagor said. "When they got their food and their wish list items. I was literally holding back tears. This family of seven kids came out in their Easter clothes. When asked if they'd ever had Indian food before, they said 'no,' but that they were excited for some spicy food."
Although Rajyagor and her friends didn't stay at Carpenter's to watch people enjoy the food they'd spent the afternoon making, she later found out it all got rave reviews.
"The Muslim organization that served the food on our behalf said that the people at the shelter loved it," Rajyagor said. "They said it was awesome, and that the residents were really pleased at something so different. Hearing that was very, very cool for me."
What team Rajyagor brought to the shelter went beyond food – it was actually an experience that is in general hard to come by for locals.
"From when I first saw the shelter and met some of the people there, I thought it would be an honor to find a way to serve them," Rajyagor said. "And, even after living in this area for three years, I've found that it's really difficult to find authentic Indian food. I wanted to give people that experience, and I wanted to take it on myself, so I didn't do official fundraising."
Compassion is nothing new for Rajyagor though. Before moving to Alexandria roughly three years ago, she had spent the majority of her life in her hometown of Chino Hills, Calif., to help care for her youngest sister, Devika, who struggles with disabilities and other lasting side effects from cancer treatment she underwent as a baby.
"Moving out here has toughened me up, but I miss my family so much," she said. "I only get back home twice a year, so connecting with the community out here means so much to me. D.C. doesn't coddle you, but I'm getting acclimated. I'm embracing it."