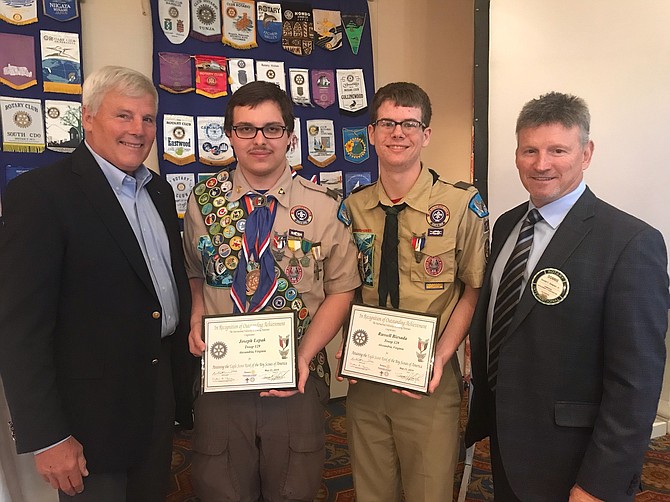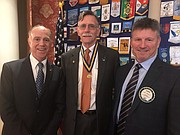 Two local Eagle Scouts were presented with scholarships at the Rotary Club of Alexandria's 21st annual Rotary Scout Luncheon May 21 at Belle Haven Country Club.
Russell Biesada and Joseph Lepak of Troop 129 of the National Capital Area Council of the Boy Scouts of America were recognized for their service during the event that featured Rear Admiral Stephen Oswald (ret) as the keynote speaker. Oswald is a three-time space shuttle astronaut and the recipient of the Distinguished Eagle Scout Award for his service and significant accomplishments during his career and community involvement.
Mike Wicks, immediate past president of the Alexandria Rotary Club, was presented with the Cliff Dochterman Award. Event chair Don Simpson Jr. presented Wicks with the award which honors an individual Rotarian or Rotaractor who acts as a role model and renders distinguished and dedicated service to Scouting through active service, leadership or other exemplary contributions to the Scout Association.
The National Capital Area Council of the Boy Scouts of America was established in 1911 and has grown to become one of the largest in the nation. Last year, the region served 59,000 youth with 22,000 adult volunteers through a range of programs for ages 5-20.
See www.ncacbsa.org.