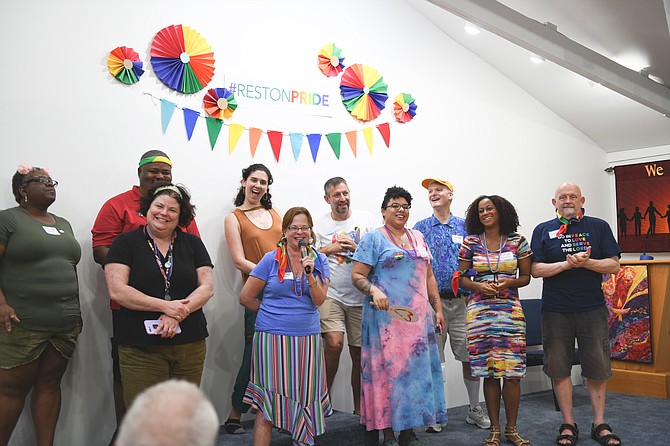 The Second Annual Reston Pride Festival will be held on Saturday, June 1 from 2 to 7 p.m. at Lake Anne Plaza to celebrate and support Greater Reston's LGBTQ+ community. The festival will feature choral groups, dancers, performers, and speakers. The event will be co-emceed by Delta B. Knyght, a Washington, D.C.-based Drag Entertainer, and Ken Williamson, music director for Washington Plaza Baptist Church and a former Las Vegas entertainer. In addition, the festival will have more than 40 LGBTQ+ friendly exhibitors. This child-friendly event is free and open to the public.
The Second Reston Pride Festival is co-sponsored by the Unitarian Universalist Church in Reston, St. Anne's Episcopal Church, and United Christian Parish, with key support from Lake Anne Plaza, Reston Community Center, Cornerstones, Reston faith communities, nonprofits, and other local organizations.
The Reston Pride Festival, begun in 2018, was created and hosted by the Unitarian Universalist Church in Reston "to break the silence in the greater Reston/Herndon area about LGBTQ+ people and issues," said the Rev. Dr. Debra Haffner, minister of the Unitarian Universalist Church in Reston and co-chair of Reston Pride.