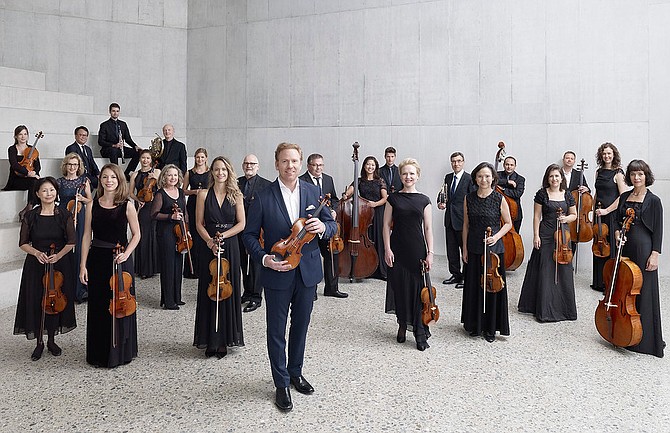 Both iconic beautiful harmony and fresh, contemporary imagination will be on display in musical event at the Center for the Arts Concert Hall.

The event is pairing the charm and delight of Vivaldi's masterpiece "The Four Seasons" with a recent re-thinking of Vivaldi's work by composer Max Richter titled "Recomposed." The concert combination will be performed by the renowned Zurich Chamber Orchestra (ZCO) led by music director and violin virtuoso Daniel Hope.
Vivaldi's "The Four Seasons" has been beloved for centuries as a grouping of four violin concerti by Italian composer Antonio Vivaldi. Each of the compelling four pieces provides vivid musical representation and expression for each of the four seasons of the year.

"The Four Seasons" are also part of pop culture. Fragments of it play in many movies, a television episode from "The Simpsons" and the recent television series "The Handmaid's Tale." And untold numbers of wedding receptions.
"We at the Center of the Arts have long had this particular program with the Zurich Chamber Orchestra (ZCO) and Daniel Hope booked because we think this is exactly where classical music programming should be heading," said Adrienne Bryant Godwin, Programming Manager, Center for the Arts.
"It invites audiences in with a familiar title, which will be brilliantly executed by Hope and his colleagues in the ZCO, but also provides an opportunity to see how this staple of the western canon inspired a completely fresh contemporary interpretation," added Bryant Godwin.
"The essence of Vivaldi's original work is absolutely present in this re-imagination. But Richter utilizes minimalist phrasing and looping which highlights the peaks and valleys of the audience's journey throughout the composition, in an almost cinematic way," said Bryant Godwin.
For Daniel Hope "The Four Seasons" has electrified him since he first heard the opening solo of "La Primavera (Spring)" as a toddler in the 1970s. "It had such an electrifying effect that I still call it my 'Vivaldi Spring.' How was it possible to conjure up so vivid, so natural a sound, with just a violin?"
Hope indicated that Vivaldi "reached a new level of virtuosity, pushing technical mastery to the limit" with 'The Four Seasons.'"

"Pairing Vivaldi's original with Max Richter's brilliant new take; I feel both works inform and reflect on each other to create fresh and exciting connection," added Hope.
Now Northern Virginia audiences can hear the two works together live.
Where and When
Center for the Arts presents "The Four Seasons" performed by Zurich Chamber Orchestra at Center for the Arts, Concert Hall, 4400 University Drive, Fairfax. Performance: Sunday, Nov. 10, 2019 at 2 p.m. Tickets: $48, $41, $29. Call 703-993-2787 or visit www.cfa.gmu.edu. Note: Pre-performance discussion with Daniel Hope begins 45 minutes prior to the performance, located on Monson Grand Tier. Seating is limited and opens 15 minutes before the pre-performance discussion.