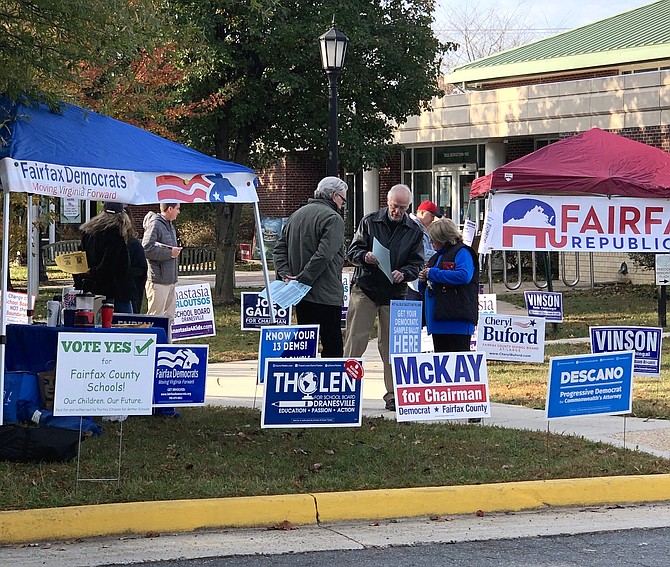 Polls opened for voting at 6 a.m. Tuesday morning for the 2019 elections. Many candidates have campaigned for another term in office, while other candidates hope to replace longtime office holders in an effort to make positive change for Virginia.
Major races this election season included Fairfax County School Board and Commonwealth Attorney, Board of Supervisors and representatives in the General Assembly.
The races for School Board have been fueled with the concern and misinformation about possible changes in school boundaries.
Republican volunteer Jeff Grieco said, "People move to certain places in Virginia so their children can attend those schools in the area. Altering the education boundaries will interrupt an already working system and will affect the values of many homes in Virginia."
Running for Commonwealth Attorney, the independent Jonathan Fahey — appearing early at the polling place at Great Falls Library — said he "quit [his job as a federal and state prosecutor] in order to run for this position and work to keep the community safe."
Fahey faces Democrat Steve Descano.
Candace Bowee, who was in charge of overseeing voting in the Great Falls Library, was delighted with the turnout of "more than 300 voters before 9 a.m." She was even more pleased to have an 18-year old voter come through the voting booths.
"It's reassuring to see young people come out and exercise their right to vote," as young people will have the biggest say in the coming elections, Bowee said.
The Connection went to press while polling places were still open on Tuesday, Election Day. For results see www.elections.virginia.gov/2019-election-results/ or www.ConnectionNewspapers.com