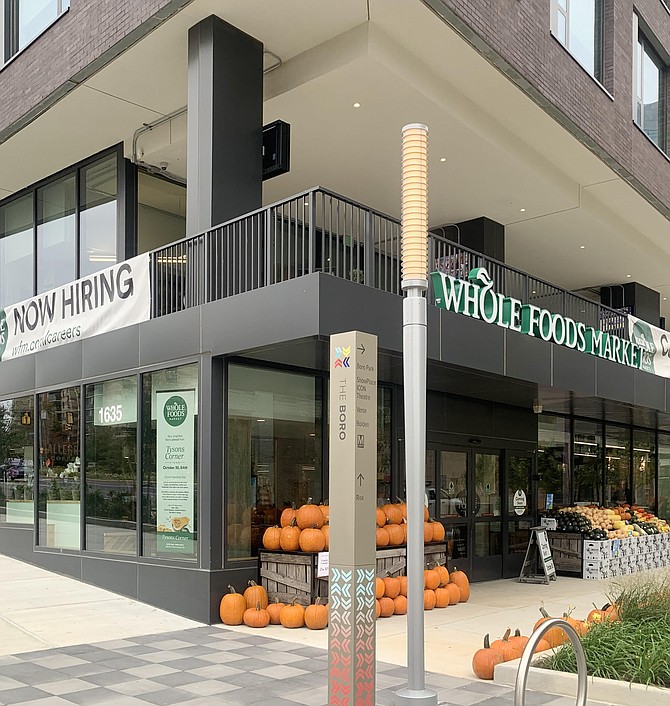 Whole Foods Market held a grand opening for its Mid-Atlantic flagship store in Tysons The Boro district on Wednesday, Oct. 30. A line of more than 400 customers wrapped around the block to snag "mystery savings cards" valued up to $100 and customized Whole Foods Market Tysons reusable tote bags. The new store celebrated with music, bubble balloons, and coffee and bagel samples.
The Mid-Atlantic flagship hails as one of the largest Whole Foods stores on the east coast, at 70,000 square feet. Customers can grocery shop, dine, relax, grab a drink, play arcade games and even do some work in an open space environment with tables and seats. On grand opening day, the in-house High Point pub offered Happy Hour specials to customers dressed in team gear in celebration of the Nationals' final game of the World Series.
"We are super excited to be here as one of the first tenants in The Boro. I think this is going to be a great new development and a great area for Tysons Corner," said Carl DePree, store team leader.
Whole Foods Tysons will sell thousands of items from local suppliers. Innovative additions line the store including a pub, game room, dining area, and a food hall by Friends of Whole Foods Market partners: Officina, Genji Izakaya, Curiosity Donuts and the Rappahannock Oyster Company. Shoppers can also enjoy outdoor seating, the in-house Allegro coffee and tea bar, a JRINK juice bar, and specialty and prepared foods including a tandoori Indian cuisine station replete with tandoori ovens. The fresh produce, full-service seafood and butcher departments feature selections from local suppliers and growers.
The flagship store opening will help attract residents to the The Boro District, which is a new "downtown" experience for Tysons Corner incorporating entertainment, offices, residential space, and shopping.
"I think this store opening today is symbolic of how companies are being innovative and thinking about the future. They're really trying to make it part of the walkable transit-oriented, family-friendly, and young people-friendly community. And I think those are all the things that we need in Northern Virginia," said Del. Mark Keam, who represents Tysons.
From opening day through Dec. 31, all proceeds from Whole Foods Market's "bring your own" bag credit program will be donated to Fairfax Casa, a local nonprofit. The flagship store will hire about 325 employees and be open daily from 7 a.m. to 10 p.m.