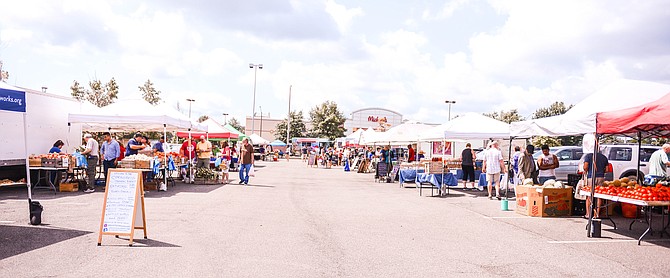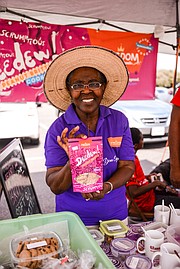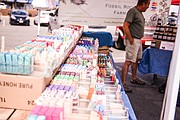 Through smiles to customers new and old, the farmers market that lies directly adjacent to the Springfield Town Center offers locally sourced products each Saturday from 10 a.m. to 2 p.m. The Springfield Farmers Market is particularly different due to its prime location.
"It is a constant flow and we definitely get a wide mix of people between regulars and people going to the mall," says Tracey Halstead, owner of Greenwich Natural Farms, a vendor from the market. There are frequent regulars that come to this farmers market.
"This is the only farmers market that allows dogs," says Julie Stevens. Stevens is a regular to the Springfield Farmers Market where she brings her two dogs to "share a cup of ice cream each Saturday."
The Springfield Farmers Market is organized through Community Food Works: a non-profit based out of D.C. "The mission is to increase food access in particularly low income areas," says Springfield Market Manager Jennifer Luu. Community Food Works began with the Springfield location 2-3 years ago. They manage 7-8 markets throughout D.C. and Northern Virginia. They help organize the market and recruit members as well as accommodate customers through their Snap matching program.
"People really enjoy Tysons Farms and the local produce vendors here at the Springfield Farmers Market," says Luu. Variety of products and vendors at the market include Cascade Beverage Company, Three Puppies Treats, and Windmill Meadows.
"Community Food Works tries to have a nice variety of vendors," says Tracey Halstead. "It's a nice blend of things that can pretty much appeal to anyone." However, the weather plays a large role in the wave of customers that visit the farmers market. Vendors said that this year's season brought in the standard amount of customers and it is dependent on the amount of rain and the heat.
Most of the current vendors have been coming to the Springfield Farmers Market for years, including Kingdom Gourmet Foods, a non-profit bakery that benefits for a better education for underprivileged children through the CITA Foundation. Owner Esther Riverson retired from her teaching job and proceeded to focus her time on Kingdom Gourmet Foods. The company sells treats ranging from chocolate chip cookies to her "friendship bread." Kingdom Gourmet Foods is family-run and owned.