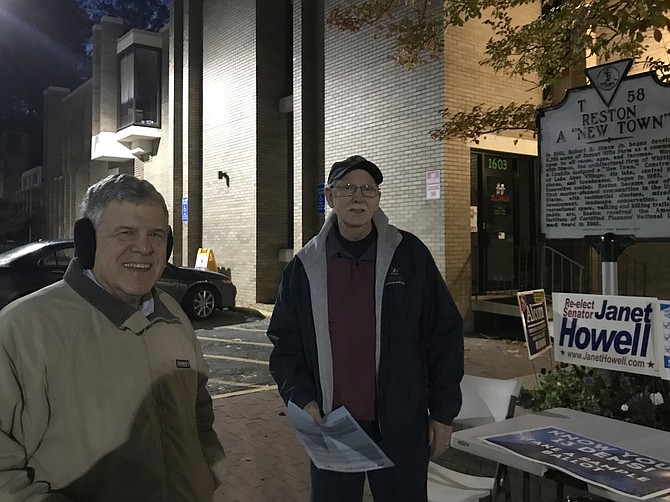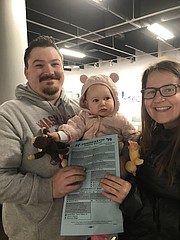 A light but steady stream of voters showed early Tuesday morning for Election Day 2019 at Precinct 222, Reston Community Center-Lake Anne, 1609-A Washington Plaza. Volunteers like Diane Palmintera had already set up information booths in the plaza parking lot.
Working in the dark, well before the first light peeked, Palmintera explained why she was out in the cold doing what she did.
"We need to flip both the Virginia House and Senate to the blue. All eyes of the nation are on Virginia," she said. "This will be the beginning of the blue wave." Palmintera stressed that so many things, such as gun violence prevention, education, health care, redistricting and the Equal Rights Amendment, were important in this election. "We must flip; it's important to send that message to the nation," she said. According to Fairfax County, Precinct 222 is in the districts of Supervisor Hunter Mill, Congressional 11, Senate 32 and Delegate 36.
At 6:01 a.m., Bob Millman of Reston, the first voter, showed in the parking lot. Inside the polling place, eight Election Officers waited. For Al Montgomery, this was his second year volunteering in the position. "We are here from 5 a.m.- 9 p.m. or later until we are finished. There are eight of us, and we stay the whole day." Rick Griffith, Assistant Chief Election Officer, said he'd been volunteering for eight years, Assistant Chief for three of the eight.
Chief Election Officer Elizabeth Schreffler explained the importance of the service to her. "My foremothers fought and died to ensure I had the right to vote. I do this to honor their sacrifice."
Voters continued to slowly stream in during the first minutes after the poll opened. They stood ready to cast their ballots in the off-year election, some focused on the state Senate election, 32nd District between Arthur G. Purves (R) and Janet D. Howell (D) and the Virginia House of Delegates, 36th District although the only name on the ballot for this district was Kenneth R. "Ken" Plum (D).
One school bond issue showed on the ballot for Fairfax County, $360,000,000 to provide funds for "the costs of school improvements… for the Fairfax County public school system."
According to Election Officials present at Polling Place Reston Community Center-Lake Anne, 1609-A Washington Plaza, approximately 150 voters received absentee ballots, and they anticipated 2,300 voters in the precinct.
Shortly before 6:15 that morning, the Borland family of Reston entered the polling place. Sean held baby Olivia, 17 months, while mom, Emily, got out her license to exchange for the blue County of Fairfax Voting Permit. She would present it to an election officer and obtain her ballot.
Asked why they were at the polls so early, Sean chuckled and replied, "Baby Olivia woke up early and couldn't wait to vote."