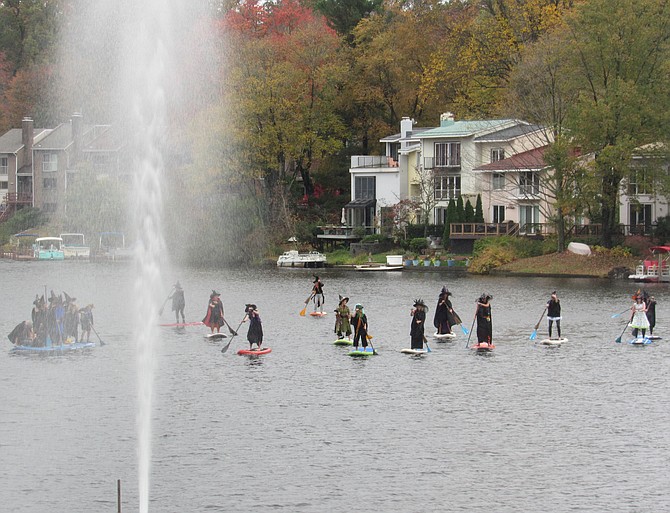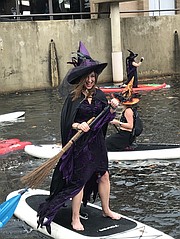 "You never know what to expect at Lake Anne." — Beth Allgaier, Reston
"I am so excited for tomorrow's Witches on the Water…I feel like a little kid excited for Halloween," said Kristi Guidry of Reston, the area's provincial community to "Live, Work and Play." With severe thunderstorms in the forecast and sudden bursts of high-speed wind gusting over Lake Anne in Reston, a flash mob coven of witches exchanged their broomsticks for stand up paddle boards (SUPs) on All Hallow's Eve. Reston is known for its Live, Work, Play lifestyle and "Witches on the Water" proved a most playful event.
Shortly after 3 p.m., approximately 30 witches and a few warlocks dressed in full costume for the occasion. They assembled at the Lakeside Cluster Dock and the boat ramp to Lake Anne on Inlet Court. Forming a fleet of two flotillas, the fifteen or so single SUPs and a monster board with a deck that rode 12 joined on the waters of Lake Anne. Even before admiring fans could see the fleet tracking, cackles and screams traveled with the wind to the Lake Anne Plaza dock. Owner of "All Around Acoustics," Trevor H lent the power of his stirring drum circle as entertainment. "One of my scariest opportunities ever," he said with a laugh.
"I was up for some Halloween fun. Anything to dress up," said Jenlene Nowak of Herndon after docking.

"I flew all the way from Peru," shared witch Ericka La Madrid. "We never do anything like this in Peru," she added.
"It wasn't hard to pull the witches of Lake Anne together," said Beth Allgaier of Reston, who then headed with the other sorcerers to Lake Anne Brew House for communal merriment and libations of "Spooky Brews."