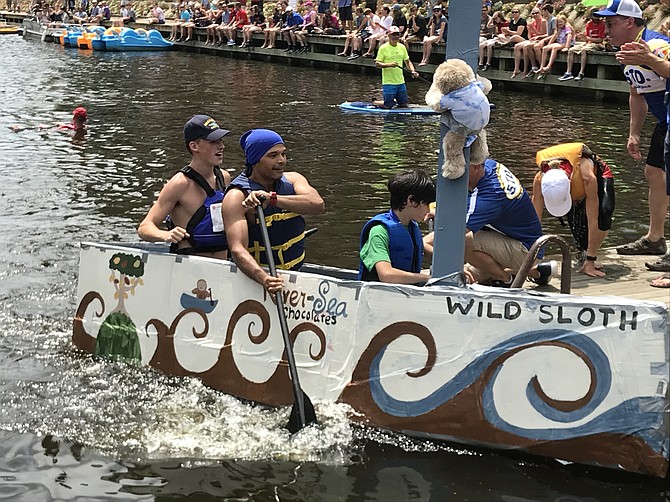 Cardboard plus duct tape equaled boats at the 2nd Annual Lake Anne Cardboard Boat Regatta held Saturday, Aug. 11 hosted by the Reston Historic Trust & Museum (RHT) and key presenting sponsor by Griffin-Owens Insurance Group of Herndon. Billed as a family-friendly event, the regatta was free and open to the public for viewing. All proceeds from the Cardboard Boat Regatta supported the Reston Historic Trust & Museum.
With a healthy dose of competition, pride and cooperation thrown in, thirty-two teams competed for first, second and third place awards in three age-based trophy categories, the People's Choice Award and the not-so-coveted but highly amusing, Titanic Award given to the team with the most spectacular boat sinking.

Spectators assembled on the lakefront plaza well before noon. With the sun high in the sky and blazing, the heat was intense but it did not deter a reported crowd of 1,000 individuals.
Patrons, as well as the Boatwrights and crews of the competing vessels, checked out the assembled fleet, dry-docked before the start of the race awaiting inspection. Repeatedly, spectators were overheard discussing a given boat's seaworthiness vs. its aesthetic design.

Boatwrights had to follow specific rules for the construction of their vessel, or it would be disqualified. The boats had to be made of cardboard but no waterproof cardboard could be used. Duct tape, masking tape, strapping paper tape, wood glue and contact cement could secure the cardboard pieces together, but no metal or plastic staples, clamps, nails or screws were permitted. Boats could be painted with a water-based paint or sealer.
ALL CREW MEMBERS had to be inside or on top of their craft and could propel it with oars, paddles and even their hands. No motor power or kick-power allowed.
Teams competed in one of the sixteen timed heats of two. Teams powered their boats out to and round a buoy then back to the pier. If a boat capsized, it could be flipped upright, and as long as one member of the crew legally got it back to the pier, it would not be disqualified.
In an interview before the race, contenders Lea Daniel, 11, of Great Falls and her brother, Quincey spoke about making the boat, "Cinder," and how they designed it. "It took us about 40 hours, and it's an original design," said Lea. Pointing to her rescue dog, Cinder, Lea added: "Cinder loved coming outside to help us paint. He's a team player."
Lea's brother, Quincey, said, "We added a pontoon to the side, so that hopefully it keeps us stable." Mom Alina told how the children, who are members of the NoVa Labs, did not want to go to a weekly summer camp but instead asked to stay home where they researched how to build a boat and then constructed it together.
This being the second year of the regatta, some veteran boatwrights modified last year's entries. Shane Smith of Maker Faire NoVa said, "Last year we flipped real fast at the dock. This year, we have modified the design to include outriggers. It went from canoe to trimaran."

Sam Winkelstein, of NoVa Labs, said, "Our boat is computer designed and contains 300 individual laser cut pieces glued together in a ribbed structure."
Announcer and President of the Reston Association Board of Directors Andy Sigle kept up a lively banter. He cheered crews onward, especially those with, as he termed, inauspicious starts. "They are quickly pulling ahead. Paddle, paddle," Sigle called out.
In an interview the day after the event, organizer Kurt Rose said he expected proceeds from the 2nd Annual Lake Anne Cardboard Boat Regatta held Saturday, Aug. 11 to reach $10,000 through funds from boat registrations, contributions, t-shirt sales and memberships to Reston Historic Trust.
FOR MORE INFORMATION about membership or donation to the Reston Historic Trust (RHT) that operates the Reston Museum & Shop located at 1639 Washington Plaza, Reston, visit www.restonmuseum.org or phone: 703-709-7700.