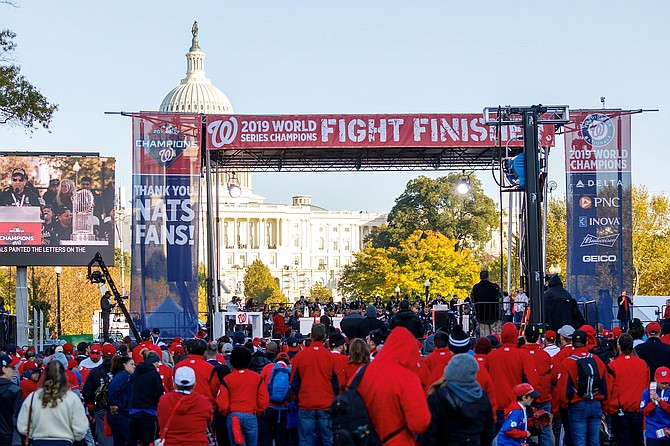 Some of Arlington's littlest baseball players were on hand as the Washington Nationals celebrated the franchise's first World Series Championship Nov. 2 during the team victory parade through the streets of D.C.
Members of the Arlington Babe Ruth Baseball League for ages 4-12 were among the featured parade participants that marched ahead and cheered the Nationals players. Tens of thousands from around the region turned out in full force to catch a glimpse of the parade that included a shirtless Brian Dozier, star reliever Sean Doolittle and his lightsaber, Gerardo Parra and a herd of baby sharks, and the two-fisted Bud Light guy on his own float.
Families and volunteers of Arlington-based T.A.P.S. were also featured in the victory parade that followed a route swelled with red, white and blue-clad fans along Constitution Avenue and the National Mall.
Some fans sported homemade posters reading "19-31" reflecting the team's dismal record at the beginning of the regular season. But as Parra's trademark "Baby Shark" and team rallying cry played in the background, the "Fight Finished" theme of the parade prevailed.