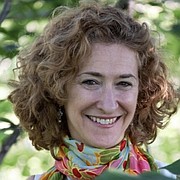 Billed in the Autumn edition of the Potomac Friends of the Library newsletter as, "A satirical debut novel … about a behemoth of a new house in a DC suburb like ours," White Elephant is the first book written by former Potomac resident Julie Langsdorf.
Langsdorf will speak about her book and her writing life at 1 p.m. Saturday, Nov. 16 at the Potomac Library, 10101 Glenolden Drive.
"I was born in New Rochelle, New York, but I moved to Kensington when I was two — so I've lived in the DC area for nearly my entire life. I went to Walter Johnson High School. I lived in Potomac for twenty years, between 1995 and 2015. My kids grew up here, and the Potomac Library was our library. It's great to come full circle by doing a reading here," Langsdorf said.
Langston said the story is not autobiographical – no fights or loves with neighbors – "but it was inspired by articles I read in The [Washington] Post. A local town was considering a moratorium to deal with a mansionization problem gone haywire. It was fascinating to me to read about neighbors suing each other and egging one anothers' houses – a real nightmare for the residents, but a dream come true for a novelist! I couldn't resist creating my own community and imagining how things went so disastrously awry."
As for satire, Langsdorf said she doesn't necessarily agree that her book is a satire.
"I use humor as a lens to tell stories of real emotions, fear, longing, and loneliness," she said. "Some crazy things happen in the book – but crazy things happen in real life, too."
Going beyond the story but considering some of the problems in her fictional neighborhood, "I would say the division comes from both taste and values. Everything feels so divided these days, sadly. There's so much vilification of those we perceive as other. One of my hopes with the novel is to show how similar we all are — even those we see as very different. In the fictional town of Willard Park, as in real neighborhoods, the residents all want [what] they believe is best for their families. Those beliefs just vary."
Langsdorf has done readings before and said questions from her listeners vary, depending on the audience.
"Some people are curious about where the story came from and whether I'm writing about people I know; others really like hearing that I didn't get the novel — my first — published until I was over fifty. It gives them hope," she said.
If there is a white elephant in your neighborhood or if you want to hear about Julie Langsdorf's White Elephant, remember Saturday at 1 p.m. Nov. 16 at the Potomac Library, 10101 Glenolden Drive.
"White Elephant" is available on Amazon.com