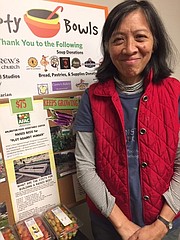 Puwen Lee walks into her office at the Arlington Food Assistance Center (AFAC) on Nelson Street, a little dusty from four hours of gleaning turnips, mustard greens and collards at USDA Beltsville Agricultural Research Station. She says, "We couldn't see the end of the field of turnips." Today she and eight volunteers had spent the morning gleaning 1,396 pounds of turnips and collard greens.
Lee says a native of Arlington is an entomologist at the Agricultural Research Station who does research on bugs and has given AFAC access to the fields of vegetables. "Every time we go, we get a biology lesson."
AFAC is an independent, community-based non-profit food pantry that provides dignified access to nutritious supplemental groceries to over 2,400 families each week. With limited incomes, they often choose less expensive and less nutritious options than fresh produce.
Lee is currently retiring as Volunteer Manager and as Associate Director of Programs and Plot Against Hunger at AFAC. This program relies on partnerships with local and regional farms, Arlington urban gardeners, grocery stores, congregations, schools and government agencies to increase the availability of fresh fruits and vegetables for families in need.
Lee remembers when she started as a volunteer 13 years ago and the staff was much smaller at six paid positions where it has now grown to 20. A year or so after she volunteered, AFAC had a part time opening for a staff member, and Lee took off running. Charles Meng, CEO of AFAC says, "Puwen has the distinction of being the longest tenured employee of AFAC."
Lee remembers in the beginning, "I noticed there was no produce when people came to pick up, only frozen. Every once in a while we were able to give people one apple, one grapefruit. It was hit or miss. I said 'can we ask gardeners if they will share their produce.'"
Lee started working at AFAC at the beginning of the recession so she says they realized they had to tighten their belts. Instead of buying cans of black beans, they started buying large quantities of black beans wholesale. "People weren't taking the cans but when we started giving bags of black beans they liked it because they could season them the way they liked, and we were saving money."
Lee says Charlie did a large reorganization of the system. "Things regularized, so helpful."
Then one day she came in and found a big box on her desk. It was full of seed packets. "They told me, 'you're the gardener; you figure out what to do.'" She said she was lucky she had a boss in the volunteer department who gave her the flexibility to go beyond. "I started talking to the community, to farmers and had a board member who was very interested."
Lee says she very quickly identified two major strengths, the Farmer's Market and the gleaning concept. They had one school and one farmer's market the first year, and Rock Spring UCC was the first church to participate a short while later.
In the beginning it was only the Farmer's Market at Courthouse and now there are eight or nine Farmer's markets that donate their produce. "Farmers are happy to do that and sometimes it is easier for them because by the time they get the produce back home from the market, it isn't good anymore, except maybe for the hogs." She said they can get maybe 15,000 pounds over the summer from the markets.
The second is the gleaning concept. "Go to orchards and pick your own, or you can have from this section. Then there is the spin off gleaning at USDA."
There are challenges. One year they had about 5,000 pounds of winter squash that wasn't moving. So Charlie (Meng) told her "a friend of mine said they don't have squash in Latin America." Part of the solution was to give out taste samples. Things evolved.
AFAC currently supplies 19 locations around Arlington with food for low-income people. Some sites appreciate certain produce more than others so they funnel the beets to the Russian community at Claridge House or the greens to the Vietnamese community at Woodland Hill. "We are able to fine tune so we can serve our clients best." The produce comes from over 55 plot gardens around the community as well as well as farms from the Shenandoah Valley to the Beltsville Agricultural Research Station in Maryland. She says, "We keep this garden going because of the community and the many different groups that we are able to work with. They say it takes a village and it really does."
Another early issue was the sudden influx of vegetables. "We had not had so much produce before so processing once things came back to AFAC was a new challenge. We found it was really hot and the produce would cook in the trucks. So we learned to have bagging teams who could bag it immediately when it arrived at the warehouse into family size portions for Monday. Now we do it every day of the week. The volunteer department is so good at the mechanics."
She says one of the biggest challenges is education at all stages. "We try to teach people, for instance, if collards get limp that you can just put them in water and plump them back up. Or," she says, "if an apple has a bruise, they would put it into the compost pile, but it could be used for applesauce. We try to eliminate waste."
To further the goal of education, Arlington Central Library offers gardening talks on Wednesdays at 7 p.m. on a variety of topics from gardening in the shade to vegetable diseases, composting and mushroom growing. These talks span from March to early October.
And nutrition is always at the top of her list. "Ramen noodles may be cheap but it's not healthy." She says over time the menu has become much better. "I hope it will continue to improve." She changed the meat offering from hot dogs. "I thought maybe we can get some chicken. I went to the Florida Avenue Market and got 250 pounds a week; now we get 4,000 pounds a week."
Her basic belief is that good food is everyone's right.
So why did she go this route instead of the position she was offered as Adjunct Professor at George Washington University? "Well one thing I'm a gardener, another I'm a cook. Gardening people in Arlington know each other. I do think on one level that gardeners are generous by nature. I have gotten to know so many people that have enriched my life. Beyond that, I know I have found a place where I know I can do some good, by helping make sure that nutritious food is available to people who need it."