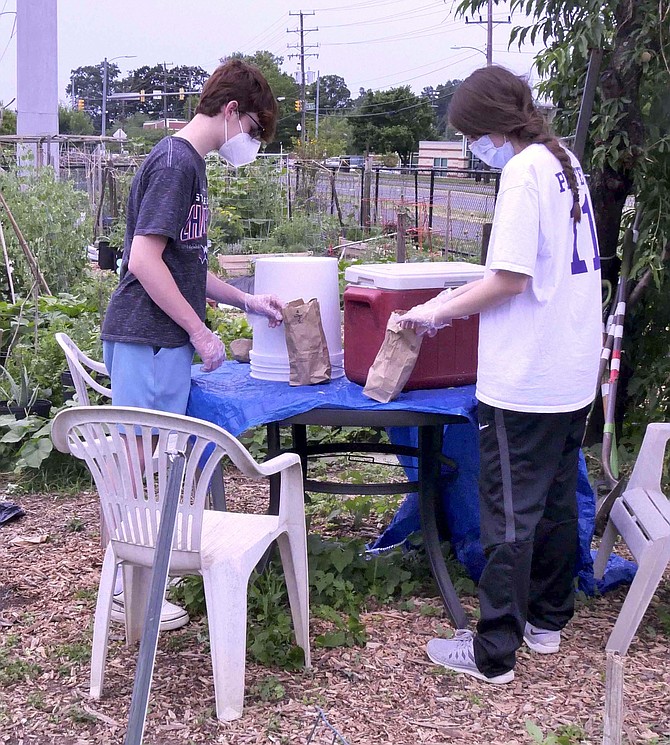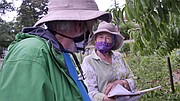 The South Four Mile Run Community Garden has changed its procedures due to the coronavirus pandemic, but tomatoes and peppers are still tangled with squash sporting yellow blossoms and remains of the sugar snap peas. "For the most part it is better this year because people have more time," according to Maraea Harris, Chief Gardener, a volunteer position, at the site. She says they have about 115 plots ranging from the smallest at 10x20 to the largest at 20x20 feet.
Harris says they had their annual meeting at the end of February when there was little inkling of the pandemic. "We were hearing about it in China. Once things shut down, we were getting lots of questions about whether we were still gardening." She says that under the normal schedule, payments for the plots are due in March, and by the beginning of May the plots have to be cleaned up, although not fully planted. She pointed out that they don't have a lot of early crop gardeners anyway.
"We were never restricted from gardening by Parks and Recreation, but we didn't have supplies." She says they didn't have hand sanitizers and didn't have water that gets turned on later. People had to bring their own water for hand washing. Since the gardeners share tools, they had to be sure to wear gloves "although most gardeners wear gloves anyway." And since some plots are closer than others, they needed to wear face coverings.
Kit Britton, who is the newly appointed Produce Donation Coordinator for the South Four Mile Run Community Garden, has a 10x20 foot plot. He says he likes to plant as early as possible, like February 1. "I'm a lettuce man." He has also packed in okra, eggplant, tomatoes, broccoli rabe, two kinds of squash and the usual kitchen herbs that won't grow in the shade around his house.
Harris says an initial difficulty was finding seeds this year but an effort to provide free seeds was coordinated by Catherine Connor who runs the Walter Reed Community Garden. "This allowed us to get some of the plots started much earlier than we have otherwise."
Britton took on the role of Coordinator this year when Arlington Food Assistance Center (AFAC) stopped accepting the fresh produce the Community Garden had been providing to them in past years. Britton says he and Harris got interested in where they could take the produce instead.
"At the beginning of all of this, so many things felt out of control. For myself and other gardeners I have spoken to, the ability to garden and actually do something that feels meaningful has been very therapeutic."
—Maraea Harris
Charles Meng, Executive Director and CEO of AFAC, explains that with the increased demand AFAC changed the model from choice to prebagged groceries with the necessity to standardize for 2,600 families. Since nolne of the gardens could provide that quantity, AFAC directed the donations to other smaller locations that do not serve exclusively Arlington residents such as Our Lady Queen of Peace Catholic Church.
Harris says in order to help Four Mile Run learn how to transition their previous AFAC donations, she visited several other community gardens. Now about 20 gardeners at South 4-Mile Run donate produce that is collected at Harris's plot #34 and plot #9 (with the blue tarp) and delivered to a number of sites around the county with the assistance of several volunteers.

Today between rainstorms Lori Mansinne and her two children, Allie and Ryan, are loading up the trunk of their silver CRV and heading to St. Charles Borromeo Catholic Church. They will stop on the way to pick up produce from a recently acquired partner. Allie says she used to volunteer at Arleigh-Burke Pavilion but when they couldn't go anymore in February she looked for another opportunity. Ryan said he wanted to work with his sister and to be sure that people had enough food.
Britton says an anonymous donor gave them $200 to get the donation program going that they have used mostly for bags and gloves. "I keep a trunk full of supplies."

Harris's mother, Catherine Harris, keeps ice and coolers at the site and helps bag the kale and other donations for distribution at the St. Charles Borromeo Catholic Church food pantry on Tuesday and Our Lady Queen of Peace food pantry on Wednesday and on Saturday.
Sally Diaz-Wells, Social Justice and Outreach Minister at Our Lady Queen of Peace, says they were serving an average of 235 families pre-pandemic and now average 600 families a week.
The donations also go on Fridays at 2 p.m. to Randolph Elementary School with a special collection once a month to Kenmore Elementary School for their food distribution.
Harris says, "We donate to places that are as open as possible; the churches we ask them if they have any requirements for giving out the food." She says their garden is more diverse from where people come from. Britton says, "We never ask people for paper. We just give it to people who can't afford food."
Harris says of their gardeners, "We have a pretty large Bengali community and often family generations garden together with the kids, parents and grandparents." She adds that for years, the Arlington Department of Human Services ran a plot for Cambodian refugees, but that is no longer in operation. "Neighbors garden together or married couples do their thing together or there are solo gardeners. "But we try to create a sense of community."
Harris's own plot is crowded with lettuce, Swiss chard, turnips, peppers and radishes as well as tomatoes, at least six different kinds. "And I do enjoy flowers and I have a peach tree and fig tree."
Britton says the plots are very popular. "There is a huge waiting list. I have had my plot for four years and it took me seven years to get one. People hang on to their plots. They have to die or leave town to turn them over." He says they are trying to figure out how to handle this issue.
Arlington County currently has seven gardens run by the individual associations. The County assesses a fee of $60 for full plots with water and $50 for plots without water with $30 and $25 respectively for the smaller plots. These plots are available to Arlington residents with only one per family and with a set of accompanying rules related to good gardening.
Britton says the 10th & Barton community garden near courthouse has decided to join the produce donation efforts of South Four Mile Run.
"They will put their stuff out and we will pick it up." As their efforts expand, Britton is hoping to get more volunteers "maybe high school kids with a driver's license but no college to go to."
In addition, he is working on getting more volunteer gardeners to donate. "I've been walking up and down the line. Most people know about the effort now. A lot of people say they don't really have much stuff yet." He says they have collected about 150 pounds of produce cumulatively so far. Harris says she is hoping, as the season moves along the donation effort will grow. "At the beginning of all of this, so many things felt out of control. Job losses, changes, kids not in school, etc. For myself and other gardeners I have spoken to, the ability to garden and actually do something that feels meaningful has been very therapeutic." She adds it has always been true but it even more so now.

Britton adds, "The world has changed and I feel we all need to work to tighten community in this startlingly unexpected new world that we now live in. I'm 78 and I've lived long and would like to finish with a dash, working hard for the good things. like fresh produce for everyone."
For more, see https://environment.arlingtonva.us/gardens/community-gardens/