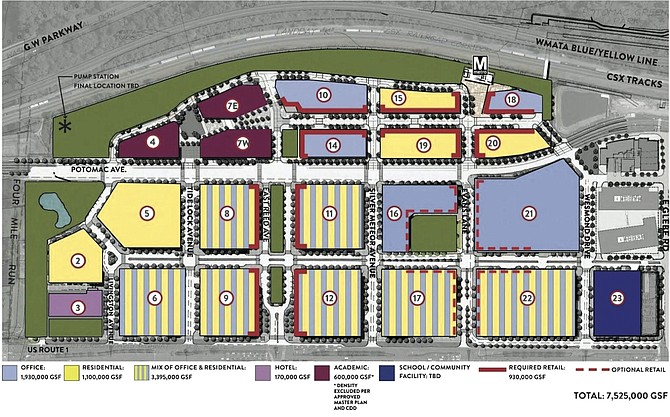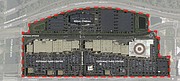 The strip mall at Potomac Yard is a placeholder, a temporary solution to a thorny question about the relationship between density and traffic. Back in the early 1990s, candidates for City Council were on the campaign trail railing against overdevelopment. Lonnie Rich's 1991 newspaper ad in the Gazette Packet warned of "massive commercial development" he compared to two-and-a-half Pentagons. He now says that was a mistake, and the move toward low-density development does little more than contribute to urban sprawl.
"I think we screwed it up. Badly," admits Rich, who was the lone vote against the zoning change allowing the strip mall in 1992.
The old industrial zoning would have allowed for 18 million square feet of development. On the campaign trail in 1991, candidates for City Council said they would fight to limit development to 6 million square feet. They ended up approving 9 million square feet to fight off a proposal to build a football stadium on the site. The end result was a compromise that made nobody happy at the time. But people came around.
"After a while it became obvious this was a gold mine," says former Mayor Bill Euille. "The scale of it wasn't really in the original plan, but it really worked out well."
"I think we screwed it up. Badly."
— former City Councilman Lonnie Rich
Now the placeholder is being replaced by an Innovation District, a plan city officials say will mix office space and residential units with required retail and the Virginia Tech graduate campus. Building 7W will be the first construction, and the academic campus is expected to open in the fall of 2024. That will be followed by the other buildings in Phase One, which is the movie theater and parking lot on the east of Potomac Avenue. Redeveloping the strip mall won't happen for some time, although city officials are feeling a crunch to get this thing up and ready for the new Metro station.
"So there's a there there when people get off the Metro," explains Cathy Puskar, land-use attorney representing developer JBG Smith. "So that we're creating ridership for people to get on the Metro. And, most importantly, probably for you all (City Council members), creating revenue to pay for the Metro."