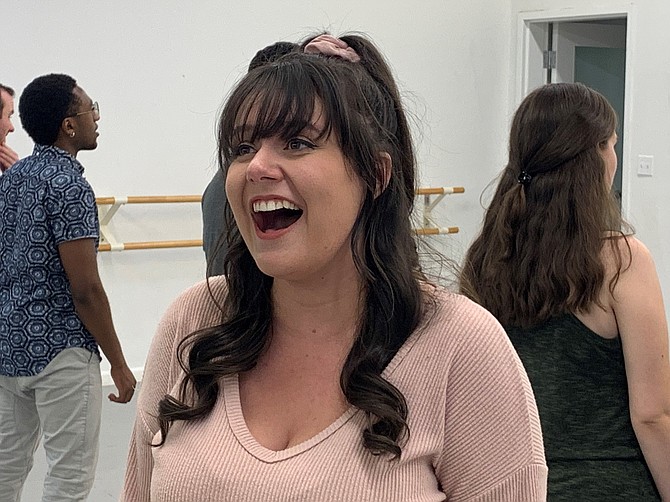 The Workhouse Arts Center annually hosts a Haunted Trail during October; "and for the past few seasons, we've tried to complement the theme on our stages through concerts, musicals/plays and other special events," said Joseph Wallen, Director of Performing Arts, Workhouse.
"This year, we selected 'Carrie' the musical. It felt like a great fit for our audiences at this time of year," added Wallen. "The show is a relatively faithful adaptation of the novel and is told in a dramatic manner, but it is in no way a parody or a spoof. It is an entirely new way to experience and enjoy this familiar horror story."
The musical "Carrie" has been adapted from the best-selling Stephen King novel, about a young woman who is not like others named Carrie White. An outcast at school who is bullied by the popular crowd, Carrie thinks herself invisible to everyone else. At home, her mother is a bit over-protective. Ah, but Carrie discovers she has a special power.
Book by Lawrence D. Cohen, lyrics by Dean Pitchford and music by Michael Gore, "Carrie" the musical is a fully re-imagined vision of Stephen King's tale and even the later movie version. The Workhouse "Carrie" creative team includes veterans of Workhouse theatre productions director Jeffrey Davis, with choreography by Mary Payne and music direction by Chelsea Majors with a live band including keyboards, percussion, bass and guitar.
The "Carrie" cast includes more than a dozen. The title role of Carrie White is played by Barbara Lawson. "I am super excited … Performing the role will also be a little nerve-wracking, since fans of the movie will have certain expectations based on Sissy Spacek's performance. It will be a challenge to meet those expectations while also making the portrayal of Carrie my own."
Carrie White's background is troubled indeed. "She has tough circumstances to overcome and does not have all the social tools."
"Live theatre is the truest form of storytelling. 'Carrie' is a powerful story to share. On the surface, there is an entertaining 'live horror movie' but beyond the scares and stagecraft, there is a deep root about a bullied girl," said Davis.
"'Carrie' is the classic Stephen King horror story told in a way you've never experienced," added Davis. "And; some of the action of the play does spill over into the audience areas of the theatre completely blurring any 'fourth wall'."
Where and When
Workhouse Arts Center presents "Carrie The Musical" at W3 Theatre, 9518 Workhouse Way, Building W3, Lorton, VA 22079. Performances: Oct. 4 – Nov. 2, 2019 Time: Fridays and Saturdays at 8 p.m., Sundays at 2p.m. Tickets: $20-$35 (Ticket prices may increase, based on demand. Advanced purchase recommended. VIP Ticketing options are available ($40-$55) includes reserved seating and access to VIP pre-show lounge beginning one hour prior to curtain. Lounge includes light refreshments and beverage. www.workhousearts.org or call 703-584-2900 Note: The Workhouse suggests this show is not appropriate for young children due to scary situations and adult language.