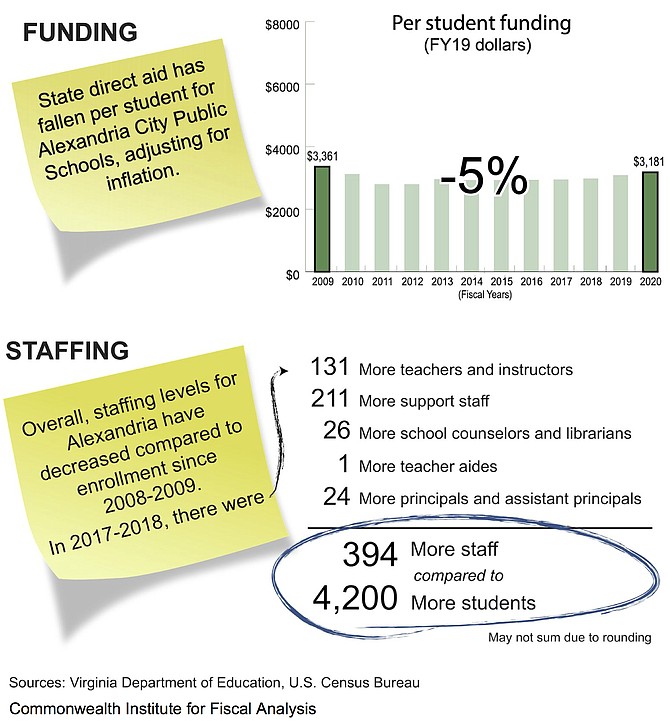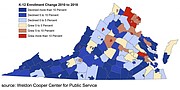 Enrollment is up, and funding is down.
That's the conclusion of a new report from the Commonwealth Institute for Fiscal Analysis, which looked at funding and staffing trends at every school division in Virginia. Alexandria and other Northern Virginia jurisdictions like Manassas Park and Loudoun County have seen a massive influx of students over the last decade. During that same period of time, per student funding has declined 5 percent at Alexandria City Public Schools.
"One of the challenges to schools that see this large growth of students is hiring a sufficient staff," said Chris Duncome, a senior policy analyst at the Commonwealth Institute. "Alexandria has hired 394 more staff positions, but that has not been enough to keep an overall staffing ration similar to enrollment."
Last week, members of the Alexandria School Board voted to handle the high school crush at T.C. Williams rather than open a second high school. The six-to-three vote was the culmination of a yearlong debate that was often heated and divisive as board members heard arguments about equity and cost. Ultimately, the majority of members seized on a model they call "one connected high school." Meanwhile per student funding has declined over the last decade.
"The concern I have is that it hasn't gotten back even to the pre-recession levels," said School Board Chairwoman Cindy Anderson. "Who knows when the next recession will come. So we're in sort of a race."
In several key areas, Alexandria is bucking trends across Virginia. City schools are expanding while most divisions in the commonwealth are losing students. Per student funding at city schools is down 5 percent. That's a decline, but it's not as bad as the statewide average of 8 percent per student. And then there's the state's share of the cost of education. While it's gone down in most divisions it's increased in Alexandria from 15 percent to 17 percent.
"I think one of the better predictors at what's going to happen in Alexandria is when you look at their birth numbers," said Hamilton Lombard, research specialist at the Weldon Cooper Center for Public Service. "They were growing quite a bit, and then you saw this influx of students because of the surge in births. But births are lower now in Northern Virginia. They've started to decline, and they're now lower than they were in the mid-2000s."