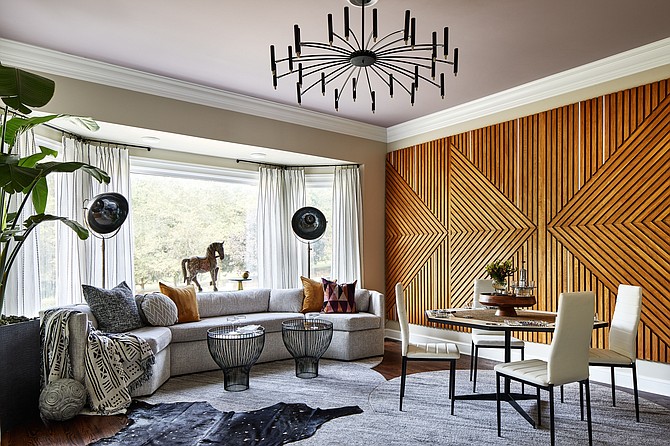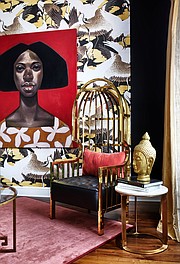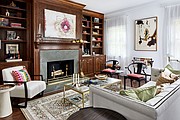 A few of the area's top interior designers were tapped to transform a grand home into a showcase house to raise money for charity. Designers Quintece Hill-Mattauszek of Studio Q Designs, Rhonald Angelo of Rhonald Angelo Interiors and Sheryl McLean of McLean and Tircuit Designs will unleash their collective creative talent to create a library, a teenage girl's bedroom and a lounge space for a family of six.
"I envision this to be a sophisticated…entertaining space, but not necessarily a man-cave," said Alexandria-based Hill-Mattauszek, who used vintage finds to bring to life "The Boys' Club," the space she was tasked with transforming. "I envision poker nights [and] Oscar parties."
"I designed the library for how a family of six will actually function within it," said Angelo. "New walnut flooring and paint changed the look. The room felt unbalanced beforehand, which I corrected in the final design."
Sheryl McLean of Bethesda, Md. added bold artwork and vibrant colors to the home's sitting room.
Interior design aficionados who are up for a short road trip can see the creations of the three local designers and others during the Historic Ellicott City, Inc.'s 33rd Annual Decorator Show House. Proceeds go toward preserving historic sites, including a stop along the Underground Railroad and one of the first public schools for African Americans.
Twenty-one designers decorated 24 rooms and spaces in the stately French Provincial private home that is the future home to a couple with four young children.
The house will be open to visitors through Oct. 20, 2019 with hours Wednesday through Saturday from 10:00 a.m. to 4:00 p.m. and Sundays from 12:00 noon to 5:00 p.m.
Tickets are $35 at the door or online are available online at http://historicec.com/show-houses/