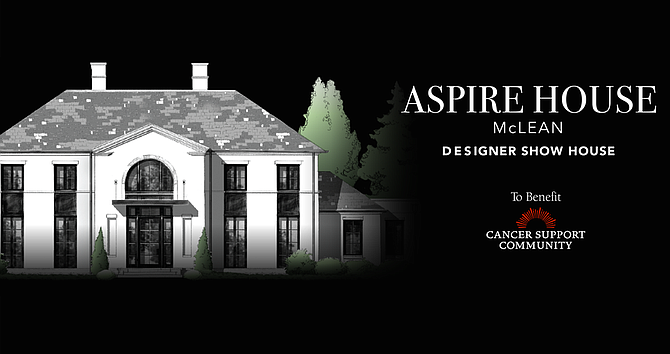 (Aspire House McLean 2020 has been rescheduled for June 13 through July 12, 2020 out of an abundance of caution and due to uncertainties surrounding the Coronavirus COVID-19 outbreak.)
Some local interior design gurus are joining tastemakers from around the country to revamp the Aspire Design Home in McLean, Virginia, as part of an effort to raise money for charity.
The effort will give visitors a chance to see the latest trends in home design while supporting the Cancer Support Community, the largest professionally led, nonprofit network of cancer support worldwide dedicated to providing emotional support and navigation for individuals impacted by cancer, including their families and friends.
"I have had the enormous privilege of working with many of the talented creatives whose submissions and design work were selected to complete the interiors of this remarkable house," said Mary Douglas Drysdale, design chair of the McLean 2020 Design House. "The final show house will be exceptional."
The makeover event has drawn 31 designers from around the world and local designers including Allie Mann of Case Design/Remodeling in Bethesda, MD and Falls Church, VA, Michael Winn of Winn Design + Build in Falls Church, Maria Galiani of Galiani McLean, Josh Hildreth of Josh Hildreth Interiors in Reston, Jonas Carnemark of Konst Siematic in Bethesda, MD, Paul Lobkovich of Lobkovich in Tysons, Federica Asack of Masseria Chic in McLean, and Pamela Harvey of Pamela Harvey Interiors in Oak Hill, Va.
The home itself is described as an innovative marriage of classical Monticello elements and on-trend materials and design techniques. Among those materials is a whimsical green hue, cheetah pattern wall covering created by Allie Mann of Case of Design/Remodeling for the upper level bathroom.
"Bathrooms in general are these little gems that can be both public and private where great design can live," she said. "In this show house bathroom, the tile is the biggest part of the space where I'll incorporate materials that are a little edgier or unexpected in terms of color or saturation and that will really create a dramatic space. I also love the different play with the pattern of the tile."
It was a personal connection that influenced the upper level bedroom created by Josh Hildreth of Josh Hildreth Interiors.
"Our bedroom is dedicated to my inspiring mother and all of those who fight or have fought the brave fight against cancer," he said. "This enchanted aerie creates a quiet respite that exists for relaxation and renewal inside of a large and sprawling home."
He says that his design process is often instigated by the discovery of what he describes as animating objects. "For instance, in January I traveled to Paris and uncovered some wonderful items from some favorite sources," said Hildreth. "Our retreat reflects a love for the beauty of France and artfully mixes French and other design elements across the centuries into a jewel box space that delights the eye and promises hope for a better tomorrow."
While guest bedrooms often accommodate one's in-laws, Annie Elliott of Annie Elliott Design says that the space she is re-imagining doesn't fit that mold. "This isn't 'granny chic,' she said. "It's "uncle chic, with masculine furnishings paired with traditionally feminine elements to create a warm and inviting retreat."
Wallpaper made of subtle pink grasscloth encompasses masculine, modern elements such as the quasi-industrial étagère, which has tiny brass rivets on metal strapping and a black-caned bench at the foot of the bed, says Elliott. "The bed is canopied, but in Cowtan & Tout's Rutland – a sophisticated woodland scene in browns, greens, and blues – to counter the sweetness of the pink walls," she said. "We repeat the fabric on the drapes, layering it over woven wood shades for depth and texture. The room is a mix of vintage, and vintage-look furnishings,
www.aspireshowhouse.com/mclean