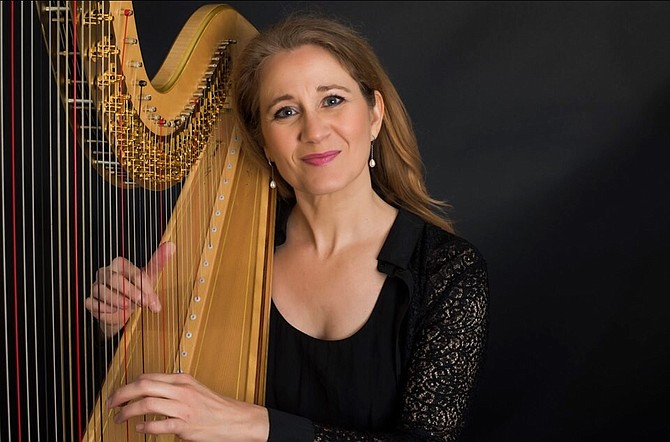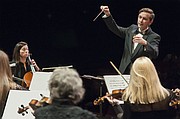 A fascinating musical program awaits audiences at Virginia Chamber Orchestra's "Shades of Autumn." Under the baton of VCO Music Director David Grandis, the concert arrives at the Ernst Community Cultural Center, Northern Virginia Community College.

Virginia Chamber Orchestra concert will include a program of works by Claude Debussy, Arnold Schoenberg, and Vittorio Giannini performed by the string musicians of the Virginia Chamber Orchestra. Musical instruments will include violins, violas, cellos and bass. Featured with the Virginia Chamber Orchestra will be harpist Isabelle Frouvelle. She recently performed for Virginia Chamber Orchestra audiences as a soloist for Mozart's Concerto for Flute and Harp.
Since moving to this area in 2015, Frouvelle has divided her musical activities between the U.S. and France. Frouvelle will be featured in the work of influential French composer Claude Debussy. Debussy, composed the admired, well-known work "Claire du Lune."

Frouvelle will perform Debussy's popular "Danses sacree et profane" ("Sacred and Profane Dances").
"I look forward to collaborating with Isabelle Frouvelle on the Debussy," said Grandis. "She has studied with Pierre Jamet who performed this piece with the composer [Debussy]. So she has gathered crucial information on style, tempi and articulation from her professor and indirectly from the composer."
Frouvelle will also play one of Arnold Schonberg's early, romantic, very atmospheric compositions, "Notturno" ("Nocturne") for Harp and Strings. "I love this piece; so delicate, subtle, and very representative of the impressionistic style. It is a palette of sounds as a painter on his canvas," noted Frouvelle.
According to the VCO, Schonberg's "Notturno," was long believed to have been lost. It was only recently discovered under a different title at the Library of Congress.

"Transfigured Night" is a popular piece by Schonberg. It was written in an "earlier, more romantic style, when his musical heroes were Brahms and Wagner," noted the VCO's marketing information. It was inspired by a poem of the same name by Richard Dehmel. The subject matter of the poem created a stir when this musical work premiered in Vienna over a century ago. The first line of the poem is this: "Two people walk through the bare, cold grove."

Another program highlight will be a modern spin on "Concerto Grosso" by the distinguished neoromantic American composer Vittorio Giannini. For Grandis and the Virginia Chamber Orchestra, Giannini is a composer who "deeply deserves to be rediscovered."
Where and When
Virginia Chamber Orchestra present "Shades of Autumn," at Ernst Community Cultural Center at Northern Virginia Community College, 8333 Little River Turnpike, Annandale. Performance: Sunday, Oct. 20, 2019 at 4 p.m. Tickets $25 adult (if purchased in advance). $30 if purchased at the door. $25 seniors. Students with ID free. Note: The VCO does not mail tickets; tickets may be picked up at the concert. Free parking; complimentary reception follows the concert.