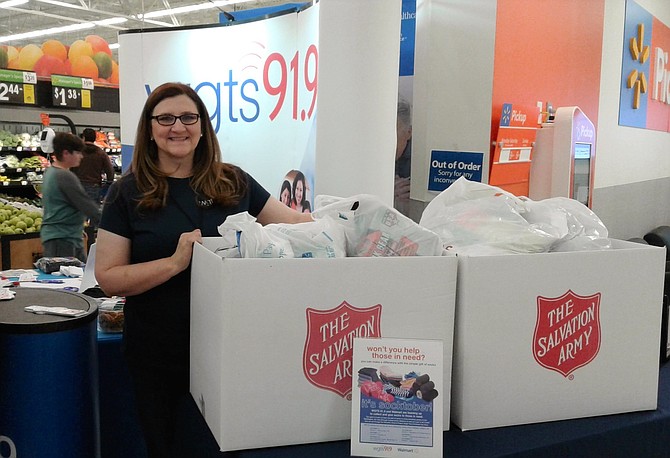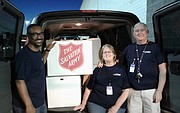 A small clothing accessory most people take for granted is needed desperately by homeless shelters nationwide.
Socks.
The Mid-Atlantic region is no exception, and Washington-area radio station WGTS 91.9-FM is on a mission to help two local charities ― the Central Union Mission of D.C. and the Salvation Army ― distribute socks to the people they serve.
Residents of the District, Maryland and Virginia are heeding the call of the station's "Hands and Heart" project and donating pairs of clean, dry socks each Friday at a different location in the DMV where WGTS has a collection booth their promotions team calls a "sticker stop."
At this regular community outreach event, volunteers hand out bumper stickers, pens, sticky note pads ― and business cards that explain how motorists can make a difference at local drive-through windows by paying the bill for the car behind them.
"Encouragement that sticks" is what the on-air personalities call their music station's overall mission.
The WGTS "sticker stop" is inside the Walmart Supercenter at 4368 Chantilly Shopping Center Drive Oct. 11 from 3 to 7 p.m. during the station's weekday radio program "Afternoons with Johnny and Stacey."
As the collection drive begins at 3 p.m., two large cardboard boxes that measure 24-by18-by-18 inches already are filled and a third box is half full. First-time volunteer Christine Miller of Herndon helps greet Walmart shoppers and organize these in-kind donations as WGTS plays 2018 gospel single "Counting Every Blessing" by Rend Collective.
"This is the only radio station I listen to," says Miller, who attends the Good Shepherd Lutheran Church in Herndon.
At 7 p.m., the afternoon rush-hour show is over and the WGTS crew packs up its booth. A young lady outside the Chantilly Walmart is concerned she's too late to make a donation.
Mary Anna Fry, 11, finds two WGTS cargo vans parked near the store entrance and is happy to drop a pair of boys' ankle socks into a collection box that's still open — as if it has been waiting especially for her. Her dad, Matthew Fry of Chantilly, says his daughter has been looking forward to participating in this special "Socktober" event for days, and asked if he would drive her to Walmart after work.
"She was waiting on the porch for me when I got home," said the proud father.