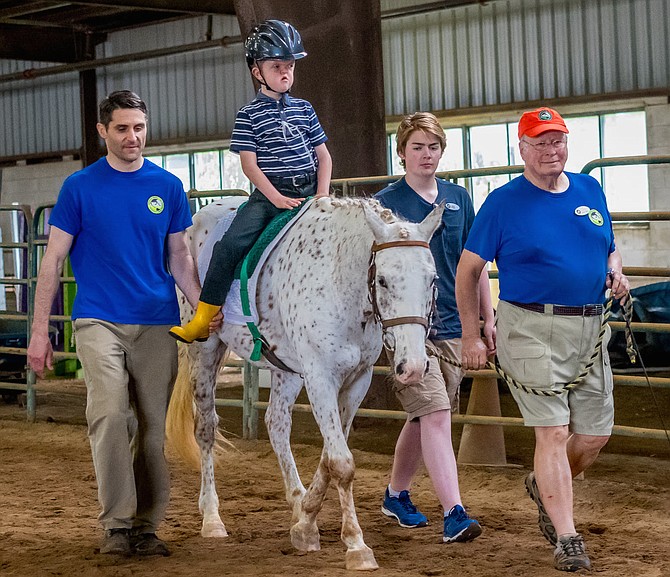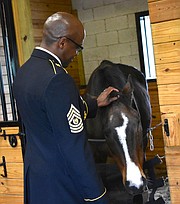 For the first time, two therapy horses, Happy, a 22-year old leopard Appaloosa from the Northern Virginia Therapeutic Riding Program (NVTRP) in Clifton, and Reeses, a 27-year old Thoroughbred from the Project Horse Empowerment Center in Purcellville, Va., will be the recipients of the Washington International Horse Show (WIHS) Honor & Service Award, sponsored by the EQUUS Foundation.
"Happy and Reeses represent horses across America who are a perpetual source of encouragement and inspiration as athletes, companions, teachers and healers, empowering people to be all that they can be," said Lynn Coakley, EQUUS Foundation President. "We are committed to increasing opportunities for all people to partner with horses in new, innovative ways."
The WIHS Honor and Service Award was created in 2013 following the induction of Klinger into the Horse Stars Hall of Fame in 2013. Klinger, a member of the Caisson platoon of the 3d United States Infantry (The Old Guard), was the inspiration for the award and its first recipient. The Honor & Service Award recognizes a horse, individual, or organization that best demonstrates the values of honor and service as embodied by Klinger.
Happy and Reeses will be recognized in center ring during the annual Military Night at the Washington International Horse Show on Friday, October 25, 2019.
Happy supports more than 110 unique riders a year as a therapy horse. Prior to coming to NVTRP, she was a high-point earner on the Ponies of America (POA) circuit. The Pony of the Americas is a pony/small horse breed developed in the state of Iowa. The foundation stallion was an Arabian/Appaloosa/Shetland pony cross.
When Happy arrived at NVTRP in 2011, she easily adjusted to the needs of her riders – altering her own behavior and body position to accommodate them, slowing her pace when a rider becomes unbalanced, and providing a smooth, steady tempo for riders who need to improve their balance. She has treated many riders to the joy of their first canter as well.
In 2013, Happy was diagnosed with squamous cell carcinoma, resulting in numerous chemotherapy treatments. Through it all, she has continued to provide strength and confidence for her riders, inspiring those who spend more time in doctors' offices and hospitals than their peers.
Happily, Happy is in remission. Her calm, loving and happy up-tempo personality continues to rub off on the riders and volunteers around her, creating a positive experience for everyone.
Happy's impact on the program is felt by countless riders, volunteers and staff who are continually amazed by her dedication to her job and the lives she helps improve on a daily basis.
In 2007, Darcy Woessner was searching for a sport horse for her personal enjoyment and unexpectedly crossed paths with Reeses, an ex-event horse, who was malnourished, arthritic and covered in rain rot. She was appalled by the condition of the horse – permanently lame and in poor physical and emotional condition. Although Reeses was not the sport horse she was seeking, she intervened and rescued her.
That fortuitous decision not only changed Reese's life, it became a turning point in Darcy's life.
As Reeses received proper veterinary care and gained weight, she displayed an incredibly gentle disposition. It seemed that this lame, thrown-away horse would be an amazing therapy horse, but at the time, all of the therapy programs were focused on therapeutic riding and Reeses would never be able to be ridden again.
It was Reeses who was the inspiration to Darcy to found Project Horse Empowerment Center, a ground-based equine assisted therapy and learning center. At Project Horse Empowerment Center, humans and horses are partners in healing – on equal footing. Reeses continues to deliver hope and inspiration to hundreds of individuals with her message: No matter what, everyone has value!