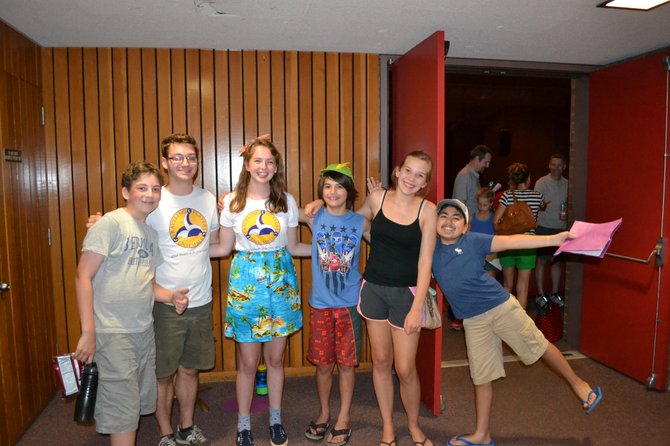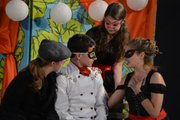 The Great Falls-based Traveling Players Ensemble concluded two of its summer programs last weekend with two productions at the Madeira School. The nearly full auditorium was treated to Shakespeare's "Much Ado About Nothing" as well as an original work, "Ariadne's Thread," written by TPE visiting director, Judy W. White.
Traveling Players Ensemble was founded 11 years ago by Producing Artistic Director Jeanne Harrison. The group's mission is to bring "great theatre to the great outdoors." And in fact, had it not been for a threat of storms, last weekend's productions would have taken place outdoors on the Madeira School campus.
"Much Ado About Nothing," one of Shakespeare's well-known comedic plays, also features a bit of underlying drama. The story revolves around two sets of young lovers. There are the two star-crossed innocent lovers who fall victim to a devious plot to tear them apart; and two outlandishly independent adversaries who have sworn off love and who trade barbs throughout. They, of course, discover that they love each other with the help of trickery from friends. Woven throughout the story is a parade of various funny, loveable or despicable characters. All ends well, making it an entertaining play for all ages.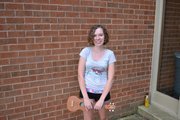 The cast, made up of mostly local high school students (one of the cast members is from Ontario), rehearsed the play for five weeks before taking the production on a two-week tour. Cast members auditioned for this production in January. One of the features of the Traveling Troupe is that they perform mainly in outdoor venues across Virginia, and into West Virginia. And they camp out for the entire two weeks. Last weekend's performance was the Traveling Troupe's closing night.
"It's the best two weeks of my year," said Harrison, who always accompanies the campers and staff on the two-week tour. The program always features a Shakespeare play, which Harrison says is the best way to reach young drama students. "Not everyone knows how to teach it," she said. "Its rich, its rhythmic, its powerful. And the funny thing is, it was like the vampire novels of its day. But it's also deeply philosophical and talks amazingly about the human condition," she said.
The TPE Middle School Ensemble last weekend warmed up the audience by presenting the original work, "Ariadne's Thread." The Middle School Ensemble practices during a shorter, two-week summer camp. Campers spend two weeks rehearsing a play and going through various drills and games to enhance their drama skills.
For a group that only had two weeks to rehearse, the actors skillfully conveyed the dreamlike story of a young Theseus in search of his two mythical fathers.
"I thought it was really fun to do," said Arlington sixth grader Henry Hoagland, who played the Minotaur in the production. "We got to learn a lot of new stuff and play games, and just make new friends," he added.
"Honestly, Traveling Players is the best thing that ever happened to me. The experience is something to remember for the rest of your life."
—Molly Jane McClelland, 11th grader
TPE has a variety of drama camps and offerings during the summer and throughout the year. Eleventh grader Molly Jane McClelland has been working on a play with the Comedia troupe this summer. "Honestly, Traveling Players is the best thing that ever happened to me," she said. "The experience is something to remember for the rest of your life." The Comedia troupe is presenting an original work called "The Great War" Friday, Aug. 16 as part of an outdoor theatre festival at the Madeira School. The festival will also feature Moliere's "The Doctor in Spite of Himself" and Shakespeare's "The Merry Wives of Windsor."