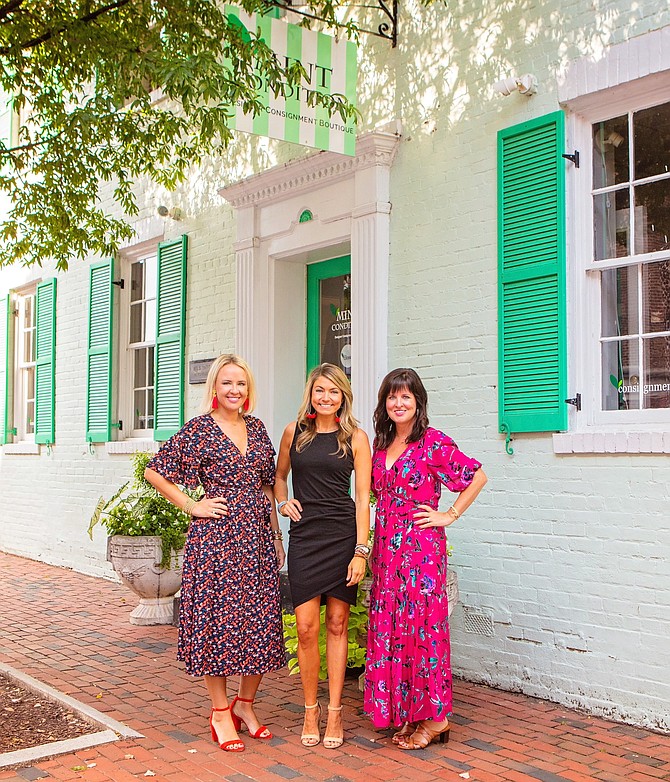 Designer and luxury consignment boutique Mint Condition has new owners. Toni Henderson, who was the founder and opened the boutique 10 years ago in Old Town, sold the business to two sisters who have experience in the City. Megan Podolsky, owner of children's consignment store 529 Kids Consign and the president of the Old Town Boutique District, and Katie Coslov, director of operations at The Shoe Hive, purchased the store recently from Henderson. Henderson will be leaving the area and is relocating to be closer to loved ones.
When Henderson decided to relocate, she was looking for individuals who might be interested in purchasing the business, but most importantly, individuals who would understand Mint Condition, Old Town and have a successful background in the retail arena.
Henderson had been thinking of Podolsky with her consignment experience and ties to the Old Town community. The two have known each other since 2010, and Podolsky and Coslov are also long-time consignors at Mint Condition. Henderson had her broker reach out to Podolsky directly in early July. The three women scheduled a dinner the following week and "It couldn't have been a better fit," said Henderson.
Podolsky's career in retail/merchandising began in the mid-'90s standing in front of a woodsy Abercrombie and Fitch (A&F). After graduating from the University of Pittsburgh, she managed multiple A&F stores before she moved on to an assistant buyer position in contemporary dresses at the local Arlington based retailer Hecht's (now Macy's). She moved onto different facets of the business at Calvin Klein Jeans (CKJ). Podolsky worked her way from retail coordinator to East-Coast regional manager helping to create the Calvin Klein aesthetic in department stores from Boston to Miami. After her first son Ethan was born, her position at CKJ was eliminated, due to the harsh economic conditions at the time and this is when she came up with the idea to launch a kids consignment business. 529 became a popular "pop-up" shop in the Alexandria area and once the following was big enough, a brick and mortar store in historic Old Town followed and has been a destination for kids clothing for 10 years.
Coslov has been the director of operations at The Shoe Hive for the past three years. Born and raised in Texas, she graduated from The University of Arizona with a major in Retail & Consumer sciences and has worked for numerous other retail brands, such as Banana Republic and Louis Vuitton. Wanting something family-oriented, with a close tie to its community and its customers brought her looking for work in Old Town. Prior to getting back into the retail world, Coslov was the vice president of sales for her family's company in the scrap metal recycling industry. Trading her hardhat and boots for boutique threads, she found a fit at The Shoe Hive & The Hive. Coslov and her husband Ryan moved to the Alexandria area in 2016 and have a nine-month-old baby girl.
"I am proud and grateful to have owned and operated Mint Condition for the last ten years," said Henderson. "I've learned invaluable lessons about business, community, friendship and beyond. I love the store and am thrilled and humbled to reflect back on how it has grown, it has been a wonderful experience, but it was time for my next chapter. Mint Condition has become an Old Town staple and the consignors, customers, and staff make up a unique family. Megan and Katie were already part of that family. I couldn't be happier to pass the torch to this fantastic team and am confident they will only continue to do great things for this special business in this special community."
"When Toni reached out to me about this opportunity, I was not only honored but extremely excited," said Podolsky. "I called Katie immediately, as I knew this was our chance to put our love of fashion and passion for our community together in one special place. Katie and I are thrilled to take over the reins at Mint Condition and honor Toni's legacy while continuing to grow a successful and flourishing business."
Podolsky and Coslov — who are sister-in-laws — plan to shadow Henderson over the next month during the transition period and will keep things business as usual. They also plan to create additional store events and partner with other area small businesses on community collaborations.
Mint Condition is located at 103 S. Saint Asaph St.