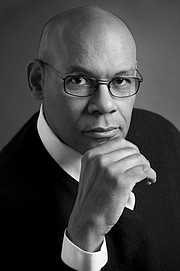 Reston Community Center's impressive 2019 schedule of professional touring artists continues with Pulitzer Prize-winning author Jeffrey C. Stewart. Stewart will discuss "the community of artists who supported one another under the encouragement of Alain Locke. The community became known as the Harlem Renaissance," said Paul Douglas Michnewicz, Arts & Events Director.
Stewart's Pulitzer Prize-winning book is a biography titled "The New Negro: The Life and Times of Alain Locke." The book explores how Locke has shaped the way we see the world today," added Michnewicz.
Stewart invited guests to Reston's CenterStage this way: "Please come with an open mind to learn about a little known figure in American history and culture whose life reveals something to us we too often forget—that we have the capacity to reinvent ourselves despite the obstacles we face."
In the Jazz Age of the 1920s with difficult times for African-Americans, "Locke came up with a new intervention—to seize on the creative capacities of African Americans to redefine the Negro as America's quintessential artist," said Stewart.
Locke's important legacy "is that he applied his theory of the New Negro—of the capacity of Black people for rebirth—to himself and continually reinvented himself over the course of his life," said Stewart. Locke was the first African American to get a PH.D. in philosophy from Harvard; and was a philosophy professor at Howard University in Washington, D.C.

For Locke, "The New Negro," was "someone young, talented, and enormously creative who had emerged on the American scene in the 1920s. They were poets, actors, novelists, painters, playwrights, and folklorists of the American soul," noted Stewart.

According to Stewart, "Locke became a mentor to a younger generation of writers like Countee Cullen, Langston Hughes, and Zora Neale Hurston, publishing their work and even securing private white patrons to give them the time and space to write.

"Locke is considered 'complicated' as a biographical subject in African American history, because he was a closeted gay man who struggled to balance the demands of a personal life of longing for a partner with whom to share his life and his commitment to a progressive race movement in the United States that had no room for an openly gay Black leader in the first half of the 20th century," said Stewart.

The CenterStage presentation will be a dialogue between author Stewart and George Mason University, Emeritus Professor Jane Turner Censer.
"Locke's greatest legacy may be that we, like him, can make a difference, can uplift the quality and richness of our culture, by reinventing ourselves as he did over and over again," Stewart added.