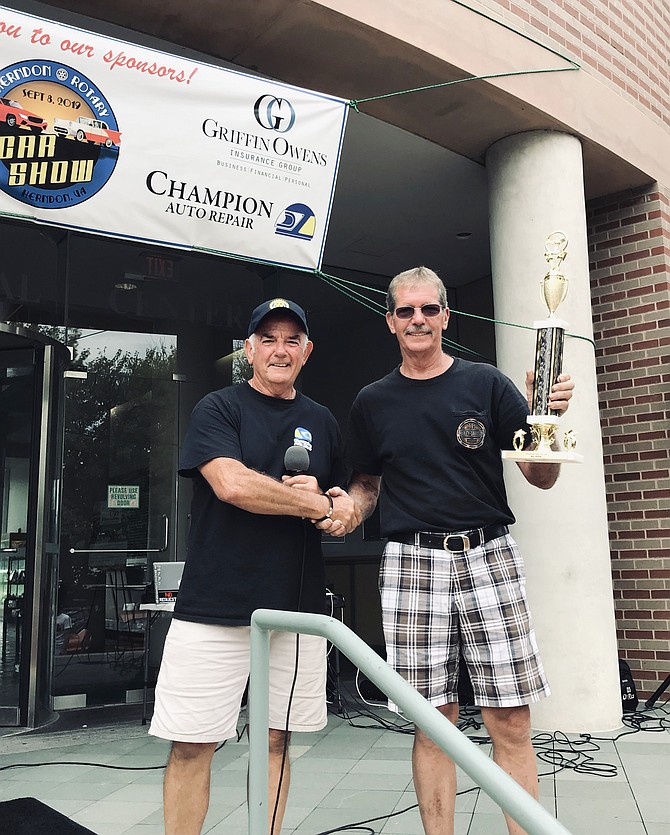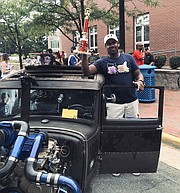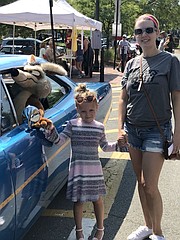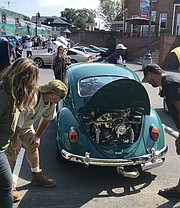 The Herndon Rotary Car Show returned to the downtown district Sunday, Sept. 8 and introduced the public to vehicles built tough, those that dared to dream big, and those that endured the test of time. Held in a blocked-off area on lower Lynn Street, the Car Show awarded first, second and third place in three categories: Classic, Contemporary and Hot Rods, as well as the 1st Place Overall Winner. Fellow entry members and car show goers chose the champions by ballot.
WITH ADMISSION FREE and open to the public, the venue featured nearly 70 cars, according to Peggy O'Reilly, Rotary Board Member. Car owners such as Victor Baskerville, formerly of Vienna, and Dave Neel of Woodbridge, stood proudly next to their vehicles, ready to explain uniquenesses, nuances, and challenges during customizing and on-frame restoration.

Baskerville customized his 1931 Ford Model A rat rod in an art nouveau design, emphasizing a balance between form and function. Baskerville used mechanical items associated with the U.S. Armed Forces such as empty bullet shells, gears and such in his design. He worked to re-shape the vehicle in a fun fashion honoring his U.S. Air Force service. Embedded in resin, the bullet shells became part of the floor mats and gears became part of the interior door panels. "I built it from scratch and took a year and a half. This is the other woman in my life. At least my wife knows where I'm at, working on my car. In the Air Force, I worked on airplanes as a crew chief."
Unlike Baskerville, Neel turned to "on frame restoration" for his vehicle, a white 1965 Ford Thunderbird convertible. "This is the first time I brought my car. I corrected the paint by buffing it out; I replaced the carpeting and rebuilt the engine and the transmission." Excited to show off the unique features of his car, Neel pointed out how the steering wheel tilted left-to-right, which allowed front seat passengers to scoot out the driver's side of the vehicle; and the sequential blinking tail lights, the first of their kind in 1961, according to Neel.
Visitors to the show such as Michael McFarlane and Amie Lange of Herndon, and Gillian Walrich and her daughter Berlyn, 5 of Alexandria, voted for their favorites. Reasons varied across the board. "I voted for the Impala because the interior was red," said Lange, who is an interior designer.
McFarlane leaned toward the Chevrolet Corvette. "It reminded me of my dad's car we used to ride around in back in 1972," he said.
For Berlyn, "Every vehicle is my favorite," she said, as she and her mom struck a pose with the Roadrunner in the driver's seat of a classic car.
ROTARY CLUB announced Griffin Owens Insurance Group, Title Sponsor with additional support provided by NOVA Automotive, CARQUEST Loudoun Auto Parts, and Champion Auto Repair. Tassara said, "I am very proud to be the organizer for the event and have this kind of car show for Herndon Rotary Club." According to Jack Vassallo, Treasurer of Herndon Rotary Club proceeds from the event will benefit Rotarian charities.
At the end of the show, Rudy Tassara, Rotary President-elect and event organizer announced the People's Choice winners for first, second and third place awards in each of the three categories, Classic, Contemporary and Hot Rods, and the Overall Best winner.
Classic Category
1st- Joe Mizer, 1967 Chevrolet Chevelle
2nd- Stuart Lamb, 1999 Acura NSX Widebody
3rd- Jerry Peters, 1971 Dodge Challenger
Contemporary Category
1st- Dave Best, 2015 Chevrolet Corvette Z06
2nd- Sean McAllorum, 2001 Chrysler Prowler
3rd- Johnathan Rosa, 2019 Chevrolet Corvette
Hot Rods Category
1st- Victor Baskerville, 1931 Ford Model A rat rod
2nd- Mike Rollison, 1969 Chevrolet Camaro
3rd- Ron Brooks, 1970 Chevrolet Ss Chevelle
First Place Overall
Mike Rollison, 1969 Chevrolet Camaro