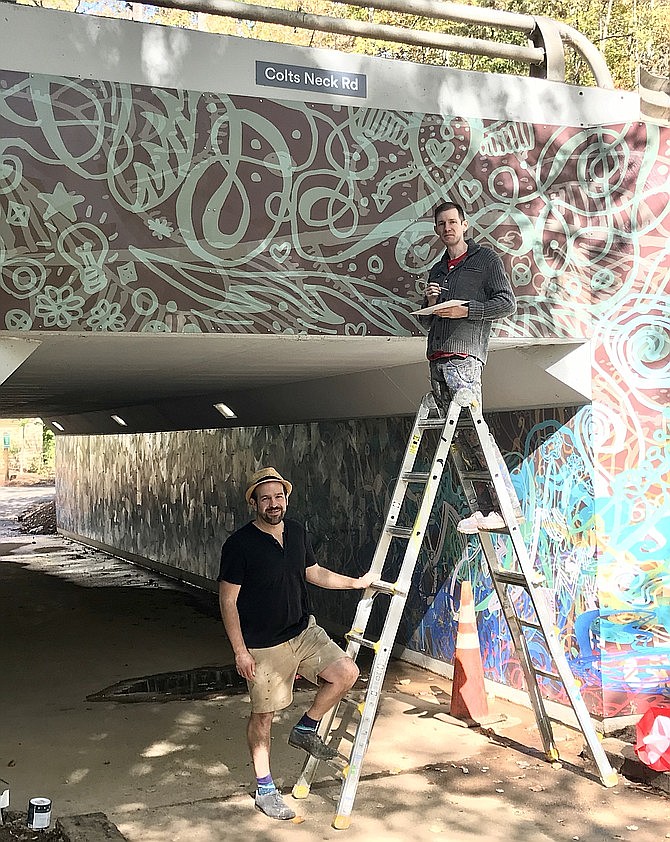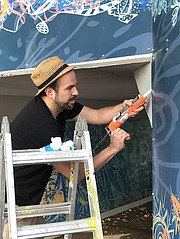 Public Art Reston's commissioned mural, Thoreau's Ensemble , (2019) by Ben Volta, located at the Colts Neck Road underpass in Reston, is a Top 100 Finalist in the prestigious annual CODAawards. In the international competition, jurors chose it as one of the 2020 finalists recognizing the most successful integration of commissioned art into interior, architectural and public spaces.
During the jury process, eighteen world leaders in design and architecture spent weeks reviewing and scoring hundreds of entries from 30 countries. Working remotely, jurors evaluated the projects on three criteria- integration of commissioned artwork into the space, the strength of the collaborative process between the artists, designers and others, and how the art and design blended seamlessly "to create a place as art, rather than a place with art."
While jurors selected one winner from the 100 finalists for each of the ten space categories: commercial, education, healthcare, hospitality, institutional, landscape, liturgical, public spaces, residential and transportation, the public can rally behind their favorite finalists by casting votes at https://www.codaworx.com/codaawards for winners of the two 2020 People's Choice Awards.
Anne Delaney is Executive Director of Public Art Reston and was Team Project Manager. "We are so thrilled and honored that Thoreau's Ensemble by Ben Volta is among this year's Top 100 finalists for the 2020 CODAawards... We submitted…(it) to the 2020 CODAawards to share this exceptional work that brought the community together through participatory intergenerational workshops... We hope people will not only vote for Thoreau's Ensemble for the People's Choice award, we also hope they will...experience the public artwork," she said.
Co-founder and CEO of CODAworx, Toni Sikes, said, "The 12-day People's Choice voting sprint (June 18 – 30) becomes quite heated, and the heavy traffic occasionally brings the website down! It is an exciting race to the finish line," she said. The two projects with the most votes at the end of the voting period will be announced as the 2020 CODAawards People's Choice winners in the August issue of Interior Design magazine.
Volta led eight workshops. He tasked approximately 650 participants from Reston's elementary schools and community organizations to "draw a path (however wide, narrow, straight, jagged, crooked, curly and winding) in which we can all look at and enjoy with love and reverence." He incorporated 710 individual path drawings into the final design of panels that cover the exterior and interior walls of the underpass with a layered and lyrical multi-colored composition creating a permanent public artwork. "2020 has proven to be a winding and crooked path - but it is a joy to see our intergenerational artwork amplified in this way," said Volta.