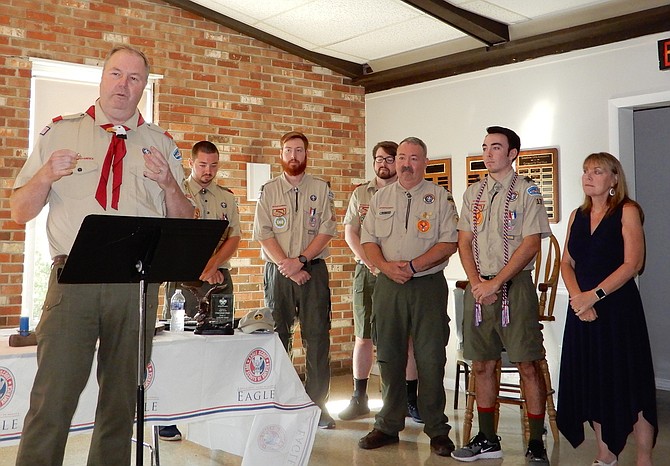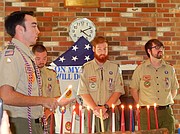 Many families have boys who become Eagle Scouts, but Patti and Kevin Whalen of Centreville's Walney Glen community have four sons who achieved that honor.
Sean, 27, did so in March 2010; Matt, 24, in October 2012; Ryan, 22, in January 2013; and Connor, 18, in February of this year. And, on Aug. 18, Connor officially received his Eagle Scout badge during his Eagle Court of Honor ceremony at the Greenbriar Community Center.
"Your mother and I are proud of all of you, and to have four boys who are all Eagle Scouts is amazing," said Kevin Whalen. "We're blessed to have all of you as our sons and as Eagle Scouts."
Connor did his Eagle project in July 2018 to benefit Centreville High's Best Buddies program. He repaired the school's greenhouse, installed park benches and built an outdoor garden area around the greenhouse. And Whalen Landscaping, run by his brother Ryan, sponsored his project.
But Connor still had some more work to do to earn his other badges so he could complete all the requirements necessary to obtain the rank of Eagle Scout. He was also busy with his senior year at Centreville High, from which he graduated in June. But, finally, he was able to receive his Eagle badge before heading off to college.
Connor was a member of Boy Scout Troop 17, which meets at Fire Station 17 in Centreville. But before that, he belonged to Troop 146, so Scouts and leaders from both troops were among the 60-some family members and friends who attended his ceremony.
Raj Sharma, Troop 146 Scoutmaster, explained the significance of the Eagle rank. "It symbolizes strength of character and knowledge of all aspects of Scouting," he said. "It's the highest award of the Boy Scouts of America and represents many years of dedicated effort.
"The Scout learns leadership, citizenship and responsibility and gives service to God, his family and others in the community. The Eagle Scout embodies the Scout Oath, which guides and directs him. And obtaining the rank of Eagle Scout is also the culmination of the efforts of his parents and leaders and is an occasion for celebration and joy."
CONNOR'S BROTHERS also participated in the ceremony, including the lighting of candles. His mom pinned on his Eagle badge, and his dad put a Scout neckerchief on him. Then Scoutmaster Emeritus Kevin Gaughan spoke about Connor.
"At Centreville High, he participated in sports on the football and baseball teams, while earning a 4.0-plus GPA," said Gaughan. "He also volunteered at church and in the community and worked part-time at his brother Ryan's landscaping company. And now, we welcome him as an Eagle Scout – the fourth one in the Whalen family."
Next, Kevin Whalen, who was also an assistant scoutmaster with Troop146, talked about the Eagle Scout bell. It's a special bell with an eagle etched into it and is sounded to welcome in each, new, Eagle Scout. And, accordingly, Connor rang the bell.
After that, Kevin Whalen, a former federal agent, presented his son with a flag flown over the U.S. Capitol in an F-16 Viper by the International Guard in honor of his becoming an Eagle Scout. He also gave Connor several official letters of congratulations from the president, the U.S. Marshals Service, other federal-government entities and even the Pope.
"For six years, Connor volunteered with the annual Scouting for Food drive, helped various families in need, worked with the Best Buddies program and volunteered with the National Honor Society," said Kevin Whalen. Then, addressing all four of his sons, he said, "I started Scouting in 1975 and had fun like you did. But I never advanced because I didn't have strong Scout leaders like you did. And I had so much fun living Scouting with you."
To Connor, he said, "You earned it, and I'm really proud of you. Keep living the Scout Oath, remember to be prepared and do a good turn daily." In response, Connor thanked everyone who'd helped him along the way, including his leaders and his family.
"It doesn't matter in life what others achieve, but what you do," added Gaughan. "Connor's achievement was even more remarkable because he was under greater pressure to achieve Eagle Scout after his three older brothers did. And it will always be a great bond between you."
He told Connor, "Your Eagle Court of Honor marks a time of transition for you – leaving Boy Scouts and going off to college. And it's the final ceremony having any connection to Troop 146, where many of us started, so many years ago. And the Whalen boys were a special part of those times."
"Seeing young men achieving great things and leading lives of significance makes me happy," continued Gaughan. "And, Connor, I know you have what it takes to succeed at college and beyond. You make my heart swell with pride, and I hope you go on to do great things and, most of all, have a very happy life."
AFTER THE CEREMONY, Connor said, "It's really special to be able to join my brothers in the Eagles' Nest, and it means a lot to me to accomplish this. My Uncle Jimmy passed away last summer, on the final day of my Eagle project. So it was tough, but I still went out there and finished the project to honor him."
Connor's now a freshman at Virginia Tech, where he's majoring in electrical engineering.