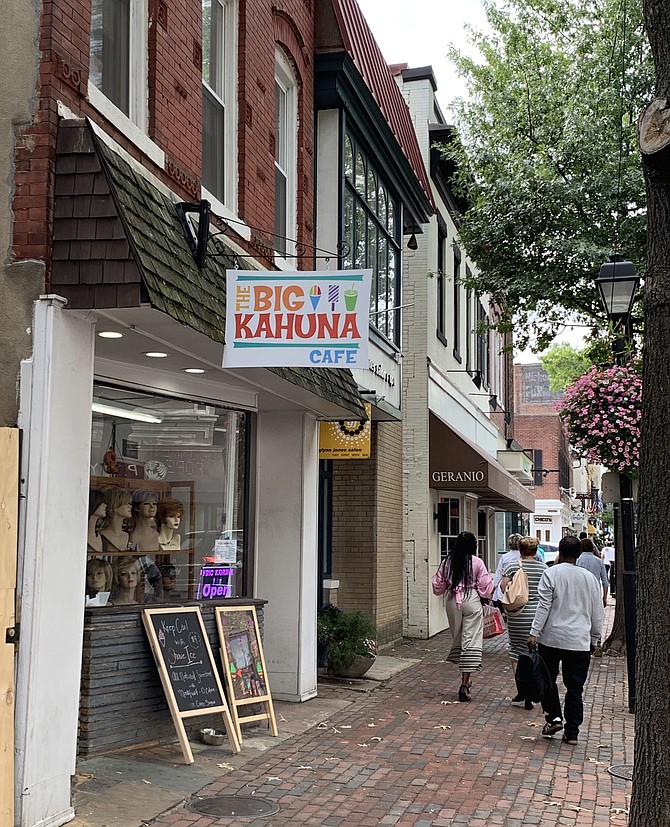 For years, the ratio of wig shops to other businesses on the 700 block of King Street has been higher than anywhere else in the city. Longtime Alexandrians are well familiar with the Crown Wigs and Hollywood Fashion Wigs shops, situated just doors apart from one another, hairdos of all styles adorning the windows.
But now, at 716 King Street, a new tenant has made itself at home within Hollywood Fashion Wigs shop. The Big Kahuna Café, which has soft-opened throughout the month of September, hosts its grand opening event this weekend from its 300-foot space within the wig shop.
"Party in the front, business in the back," laughed co-owner Charlie Schara.
Over the first few soft-opening weeks, visibility has been an issue, Schara admits. One doesn't always expect a café to share space with a wig shop, after all. But Big Kahuna now has street signage and a bright "Open" sign, and Schara continues to tweak his side of the window space to give potential customers a peek at what the café has to offer.
The focus of the café, has, as the name implies, a Hawaiian flair. Hawaiian shaved ice is a focal point, with coffee and other beverages rounding out the fledgling menu at the moment.
Unlike snow cones, shave ice is a lighter, airier product, refreshing but not crispy-crunchy the way other ice-based treats are.
"The way I describe it is it's sort of like freshly fallen snow," Schara said. And Big Kahuna's shave ice comes several different ways – from the healthy to the decadent.
"You can have a zero-calorie monk fruit sweetener, which is fantastic," Schara said. "The monk fruit-sweetened one is a big bargain as far I'm concerned, as far as sweets go. No calories and it tastes good."
But if customers are on the hunt for something over-the-top, Big Kahuna Café has them covered, too.
"We can put a snowcap (of condensed milk) on it and sort of make it (more) Hawaiian," Schara said. (That version, it must be pointed out, does have calories.)
During the weekend's grand opening event, a passel of shave ice flavors – wild cherry, root beer and strawberry coconut, just to name a few – will take center stage. Nitro and cold-brew coffee and lattes will help guests wash down their treats.
As Big Kahuna takes shape, Schara says, the menu will expand. Next on the Hawaiian horizon: A lunch menu to serve the neighboring businesses.
But that will come after grand opening weekend, once Big Kahuna has a chance to settle in and make itself known to the neighborhood. And Schara has big plans for future distinguished guests.
"I swear I could get Obama to come here – he's a big shave ice fan, too," he said.
IF YOU GO
Big Kahuna Café, 716 King Street
Hours: 11 a.m.- 9 p.m. daily.
Try this: A monk fruit-sweetened shave ice. "I'm always looking for the better (healthy) alternative," says co-owner Charlie Schara.
Hope Nelson owns and operates the Kitchen Recessionista blog, located at www.kitchenrecessionista.com. Email her any time at hope@kitchenrecessionista.com.