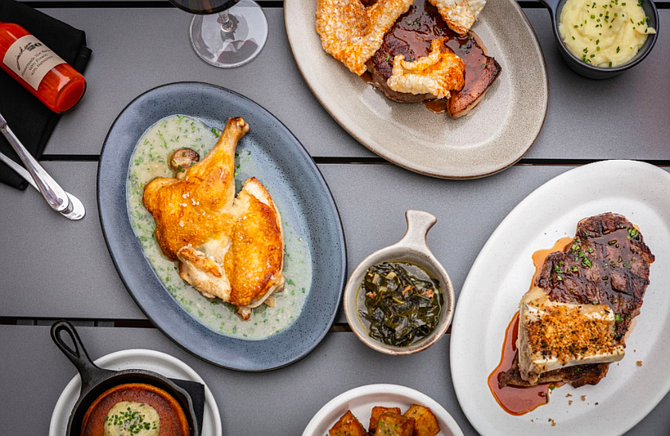 The shift from summer hasn't stopped progress: A Del Ray gelato shop nears its dawn, a Chinese restaurant in North Old Town makes a foray outside and a hotel restaurant gets a makeover in name and menu. Here's a taste of the latest restaurant news happening around the city.
King & Rye Opens in Alexandrian Hotel
Say goodbye to Jackson 20 and hello to King & Rye, the new restaurant located within the Alexandrian hotel in the heart of King Street. Executive Chef Peter McCall retains his spot at the helm from the old restaurant to the new, spinning up a menu focused on Southern fare and fine whiskey. Nosh on tomato toast – complete with Duke's mayonnaise – or devilled eggs, North Carolina rainbow trout or Shenandoah Valley chicken. And have a taste of dozens of bourbons, ryes and American whiskeys. Don't forget the cornbread! 480 King St.
Yunnan by Potomac Ventures Into the Great Outdoors
Yunnan by Potomac, a Chinese restaurant highlighting cuisine from the Yunnan province, has opened up its outdoor dining space along North Fairfax Street. Take a break from takeout or delivery and sit, socially distanced, in the fresh air to enjoy a real, live meal out. 814 N. Fairfax St.
Del Ray Boccato's Opening Draws Nearer
The signs of life continue to multiply at Del Ray Boccato on Mount Vernon Avenue. Signage is up, counters are ready and – as a sign of the times – sanitization stations are in place. It won't be long now to say hello to owner Cristian Velasco's new café, which will offer up gelato, coffee drinks, pastries and more. 2400 Mount Vernon Ave.
Hope Nelson is the author of "Classic Restaurants of Alexandria" and owns the Kitchen Recessionista blog, located at www.kitchenrecessionista.com. Email her any time at hope@kitchenrecessionista.com.