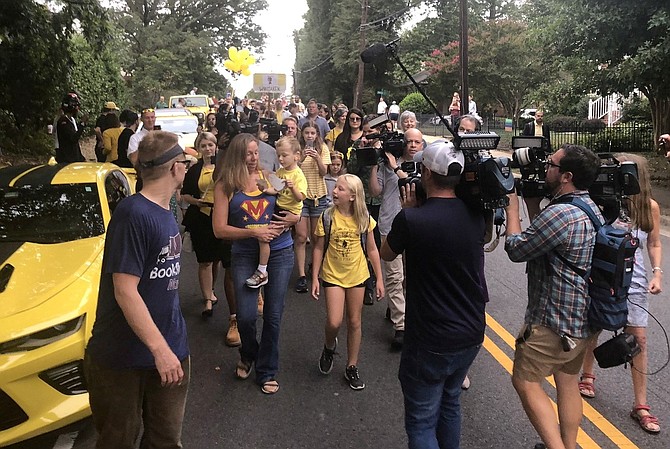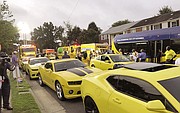 In the pre-dawn hours of Sept. 11, more than a hundred yellow cars, trucks, buses and other vehicles converged in the West End for a surprise birthday celebration for 4-year-old Whitaker Weinburger.
"Wow, Alexandria! You really know how to show your love and support for a little boy on his birthday!" Tweeted the Alexandria Sheriff's Office, on hand to assist with traffic control. "Our thanks to everyone who turned out for Whitaker's Surprise Bumblebee Walk this morning – individual drivers from near and far who drove their stunning yellow rides, professional drivers who brought their brightest fleet vehicles, and all the neighbors and Charles Barrett families!"
A fan of the yellow Bumblebee character in the "Transformers," Whitaker was celebrating his first cancer-free birthday after being diagnosed with stage 4 neuroblastoma when he was 11 months old.
Whitaker's parents, Seth and Erin, wanted to do something special to celebrate the milestone so Erin put out a plea on social media for anyone with a yellow vehicle to come to Alexandria to surprise Whitaker for his one-mile walk to Charles Barrett Elementary School.
"He's been through multiple surgeries, many rounds of chemo, two bone marrow transplants, radiation, and antibody therapy," Erin said in her Facebook post. "He is stable and has been for about a year now. And we are ready to celebrate him!"
Her post continued: "He's obsessed with transformers, particularly Bumblebee, and we cannot pass a yellow car without him delightedly shouting "Bumblebee! So we had this idea that maybe, on the morning of his birthday when we leave to walk him to preschool, we could have our street lined with yellow cars."
The post caught the attention of the Alexandria Sheriff's Office, who helped spread the word and posted a special call out for anyone with a yellow vehicle to help "transform" Whitaker's walk to school.
To Erin's astonishment, the response was overwhelming. Well-wishers flooded the streets and greeted Whitaker with a chorus of "Happy Birthday."
Whitaker's story even reached Jeremy Levy, the actor who voiced Bumblebee in "Transformers: Cyberverse."
"The best part of my day. Whitaker got to talk on the phone with Bumblebee," said Levy via Twitter. "Or should I say, Bee got to talk to Whitaker, and let him know...he's his hero."