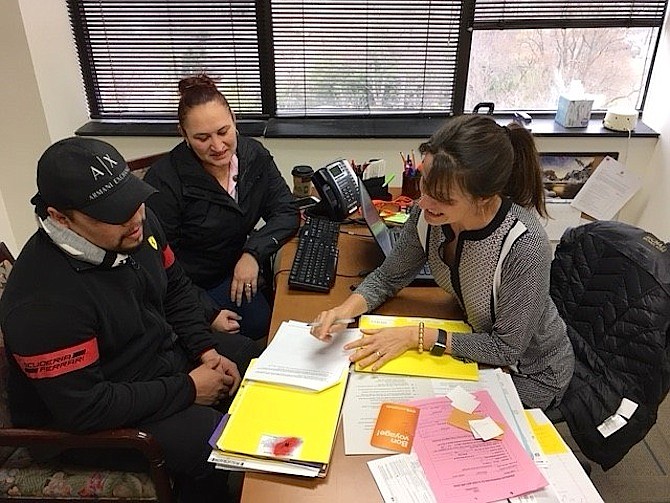 Lady Liberty will raise her torch in Alexandria as a beacon of welcome for the Just Neighbors birthday party on Saturday, Oct. 12 from 6-9 p.m. It will be held at The Garden at 5380 Eisenhower Avenue in Alexandria in support of legal services for low-income immigrants and refugees.

The international theme of the evening ranges from silent auction travel packages as far away as Kenya to an international spread of appetizers as well as beer and wine. Or if you'd like to stay closer to home, you could travel to Virginia Beach or celebrate with tickets to the Beaujolais and Beyond Celebration 2019.
While you browse the auction items and have just one more stuffed grape leaf, you can leave the little ones next door at Scramble where childcare will be provided for $12.50 per child.
The evening will also honor Anne Ledyard, the first recipient of the Just Neighbors Torchbearer Award, for her commitment in keeping the light shining for immigrant and refugee neighbors. Ledyard is a longtime volunteer and former board member. Her 32 years career as a teacher, mostly in the Arlington Public School system brought her into contact with many undocumented students.
"I learned how these students' families, who had the least resources, had to pay fees for protracted legal services in an attempt to gain legal status. Many of these students and their families were fleeing wars or other dangerous issues in their home country and were coming here to live in the safety that most of us take for granted. My connection with Just Neighbors came out of that personal background."
Genesis Lazo, Development Associate, says they are hoping to raise $10,000 to use for helping ten more families. "Every time we can help one more family, we are helping our entire community be successful."
Just Neighbors provides immigration legal services to low-income immigrants and refugees in Virginia, especially those who are the most vulnerable. It has provided services to thousands of low-income immigrants in Virginia for over 23 years. Over 50 percent of their clients are from Fairfax with others from Alexandria City, Arlington, Falls Church City, Loudoun, Manassas City and Prince William.