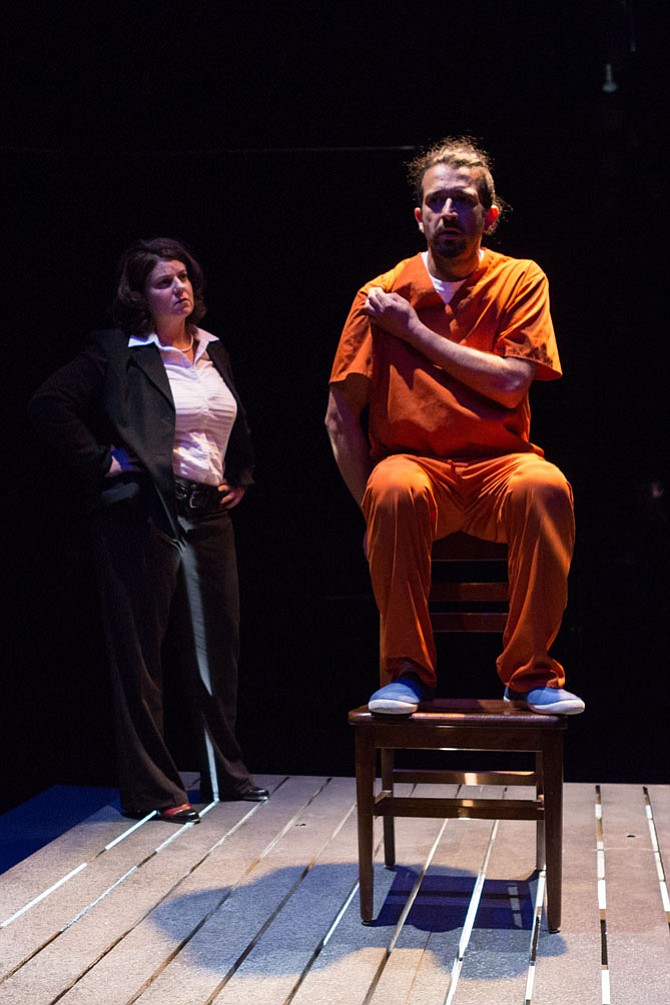 Where and When
1st Stage presents "Jesus Hopped the 'A' Train" at 1524 Spring Hill Road, Tysons. Performances through Oct. 8, 2017. Thursday at 7:30 p.m., Friday at 8 p.m., Saturdays at 2 p.m. and 8 p.m. and Sundays at 2 p.m. $33 for adults, $30 for seniors and $15 for students and military. Call 703-854-1856 or visit http://www.1ststage…">www.1ststage.org.
Note: Adult language. Captioned performances: Sept. 15 at 8 p.m., Sept. 16 at 8 p.m., Sept. 21 at 7:30 p.m., Sept. 24 at 2 p.m., Oct. 7 at 8 p.m. The captioning system uses individual devices with stands. Pick up equipment at the box office when checking-in. Venue is wheelchair accessible.
With pounding performances from fiercely committed actors, audiences at 1st Stage witness the nightmare world of the incarcerated. It is a transfixing and unapologetic tale. The searing production is "Jesus Hopped the 'A' Train" by Pulitzer Prize-winning playwright Stephen Adly Guirgis.
As co-directed by Alex Levy and Juan Francisco Villa, "Jesus Hopped the 'A' Train" does not allow the audience to look away. Levy and Villa aim to have audiences surrender into the unease that playwright Guirgis created; and they witness.
The play follows parallel lives of two prisoners, a guard and a public defender. It focuses on a young man, Angel Cruz, incarcerated in New York City's Rikers Island for shooting a man he thinks was a charlatan who brainwashed his best friend into entering a religious cult. Cruz faces murder charges. Cruz's stay at Rikers is traumatic; he becomes a target for others. He is placed in protective solitary confinement with only one hour outside his solitary cell. It is outside where he meets a mesmerizing, con-man, a serial killer named Lucius. Lucius is known as the "Black Plague." Lucius has also "found" God who becomes his protective factor from all humiliations.
Prisoner Cruz is played by Luis Albert Gonzalez. He gives his character a numbed, terrified appearance of someone shell-shocked, intimated and in disbelief. Over time, his confidence comes to the fore. He finds his voice, and speaks out it like a Biblical Job arguing to make his case to God or whomever will listen to him.
Frank Britton's Lucius is a live wire; an inspired effortless piercing presence. There is also a grace in his movements and verbal skills as he stalks the small spaces that are his on stage. Britton is never restrained; always with a mystical allure.
While characters Angel and Lucius are firmly the main focus, there are several others who have their turns at the spotlight. There is a disillusioned public defender (played with aplomb, heart and moxie by Teresa Castracane). There is also a tough-talking, verbally vindictive correction officer (an intimidating Jose Guzman whose voice and tones could cut metal).
The stark, unrelenting, in-the-round-set by Jesscia Cancino and harsh, hellish lighting by Brittany Shemuga are powerful additions to the joyless world the production captures. No privacy. Tight quarters. Little comfort.
"Jesus Hopped the 'A' Train" is probing and visceral. It is most remarkable for its high-caliber acting talent. The production is spell-binding.