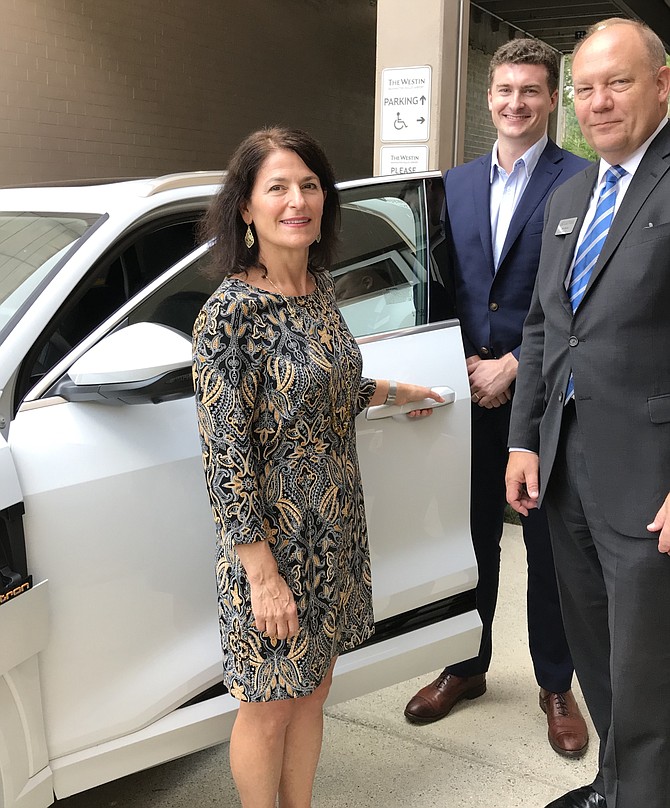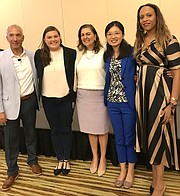 Build more lanes and more tolls; is that the solution to Northern Virginia's transportation woes? Not according to four expert speakers who addressed the problem at the Dulles Regional Chamber of Commerce's panel discussion, "In a Word – Transportation!" held Sept. 12 at the Westin Washington Dulles in Herndon.

Moderated by Simon Fowler, producer of "World Bank Live," panelists challenged common answers to Northern Virginia's transportation/mobility plans generally driven by the command and control approach. Instead, experts presented options they considered more responsive to NOVA's spatial expansion, growing motorization and changing mobility patterns. In addition, panelists noted fixing transportation/mobility use could help address some economic, social and educational concerns in the county.

Personal Perspective
Ashley Trick, Community Affairs Engagement Strategist, Capital One, McLean, gave up her car when she moved from Ohio to D.C. ten years ago and hasn't looked back. Trick found owning a car substantially more expensive in D.C. given insurance, gas and parking fees, in addition to the hassle of parking a vehicle in the city. Instead, Trick said she looked around and found different forms of public transportation from Metro buses and now scooters, ways that were "more convenient and much more cost-effective."
According to Trick, she and others run into issues when they leave D.C. and use Metro and buses to get to and around the suburbs, especially as they attempt to solve the "last mile" problem in regional transit.
"Getting here (the Westin in Herndon) was a perfect example," said Trick. "Taking public transportation, it would have taken an hour and a half, three forms of transportation…the Metro…the 950 bus…the 937, and then walk an additional mile just to get here," she said. Too much for Trick, who though not opposed to renting cars when needed, carpooled to the event with a colleague.
"Navigating public transportation and all the different apps that you can use is something that I do regularly," Trick said. Trick acknowledged she used 15 different apps to plan the most effective, cost-efficient ways to travel in D.C. and elsewhere, and always built in a time buffer. "You never know when you are going to miss the bus."

While using public transportation as her preferred option to commute to work takes her about an hour vs. thirty minutes to drive, it offered more productive use of her time and less stress, Trick said. "When I'm not driving, I'm able to check my phone, respond to emails and move forward with my work because I do not have to protect myself and thousands of other people on the road."
International Perspective
Winnie Wang, Senior + Transport Specialist, Transport Global Practice World Bank, D.C., Vienna resident relocating to Sri Lanka, provided an overview of global practices to improve urban transport planning followed by case studies and "some innovative analytic tools" developed by World Bank. Wang said World Bank was the largest provider of development of finance for transport globally, with an active portfolio of $47 billion. "Our strategy for urban transport is to provide clean, safe and affordable transport for sustainable development," she said.
Wang introduced the concept SUMP, short for Sustainable Urban Mobility Plan. "It's a strategic plan designed to satisfy the mobility needs of people and businesses in cities for a better quality of life," Wang said. SUMP supported the integration and balanced development of all transport modes with citizen participation "as well as impact evaluation."
In a case study, Wang illustrated the differences between a city center in eastern Europe densely packed with cars followed by the same site five years later after they implemented SUMP. Calling attention to her PowerPoint image, Wang said, "You can see that the corner is much more livable. There are coffee shops and pedestrians can walk there easily, meet friends," she said. Referencing mobility changes in Brittany, France, "with strong mayor leadership," Wang said planners did a significant pedestrianization of the city center, massive street parking limits extending up to two kilometers from the city center and moved cars away. "You have to provide people alternatives, so they implemented a Pass Priority in the city on the major roads with parking facilities so people can drive their cars to the nearest bus station and take the high-quality bus to the city center." In addition, she said the city improved cycling facilities. "The final outcome is the city center is changed from a traffic dominated place to be a people-oriented."
National Perspective
Qiana Patterson, Senior Director of Public-Private Partnerships, HopSkipJump, now serving in Virginia, said: "Essentially, what we do is we drive kids in a very rideshare, friendly environment. Parents can download the app and schedule a ride for their children. …We built in all the safety protocols. …We adhere to some of the most stringent background and fingerprint requirements," said Patterson, as she described the door-to-door service first started in California.
Patterson described how after operating for multiple years, HopSkipJump responded to an innovative pilot Request for Proposal by the Department of Children and Family Services for LA County for transportation of its school-aged foster children, those who it was determined would be in their best interests to be transported back to the school they attended when removed from their birth parents. Federally mandated to abide by what was best for these children, in LA, there were no viable options due to lack of bus drivers and long rides, according to Patterson.
Contracted to perform the service, Patterson said, "We are now in our third year, and it's a long-term solution." Patterson reported the call is reverberating across the nation. "Everybody started raising their hand and saying what about us, what about us? And since 2017, I'm happy to say that we've expanded to six additional states (including Virginia)…to support the most vulnerable children, those who do not have a way to get back and forth to their schools."
Patterson said they learned a lot building a system that is inclusive and one that walks children through the door as opposed to just dropping them off. For many foster children, taking multiple buses remained unrealistic, and HopSkip Jump presented a viable and attractive alternative to school districts.
Fowler mentioned to the audience that HopSkipJump also catered to the elderly, especially seniors who do not have caregivers who can drive.
Local Perspective
Eta Nahapetian, Economic Initiatives Coordinator Fairfax County, kicked off her remarks by recognizing Supervisor John Foust (D-Dranesville) who attended the panel discussion. Foust serves as Chairman of the Fairfax County Economic Advisory Commission and also serves on the Northern Virginia Transportation Commission. "(He) led our efforts to develop an economic success strategic plan. A lot of these initiatives that we've got going on right now are direct outreach of that and in support of those initiatives," said Nahapetian. "One of our primary focus areas have been to partner and to partner with research institutions, startup organizations that are doing work in Fairfax to grow our innovation ecosystem… I'm talking from the perspective of growing the economy and Fairfax," said Nahapetian.
Nahapetian explained that Fairfax County and Dominion Energy partnered on an autonomous electric shuttle pilot planned to close the first/last mile gap between Dunn Loring Metro and Mosaic Shopping Center. Funded in part with an award from the Virginia Department of Rail and Public Transportation (DRPT) and strong support from the state and the Commonwealth, Nahapetian added: "It's amazing how once you start talking about something, things magically just start to happen. "According to Nahapetian, she anticipated the project would be happening in the next couple of months or sometime between December and the summer as they worked out the details, making sure the shuttle was safe.
At the close of "In a Word – Transportation!," Fowler asked each panel member to wrap up their remarks in one word. Responses: Ashley Trick – Freedom; Winnie Wang – People; Eta Nahapetian – Inflection-point; and Qiana Patterson – Opportunity.